Beluga Projects Logistic, which specialises in the transportation of heavy and oversized cargo in Russia and the Commonwealth of Independent States (CIS), has boosted its fleet with the addition of a Neptune Marine EuroTug 2710.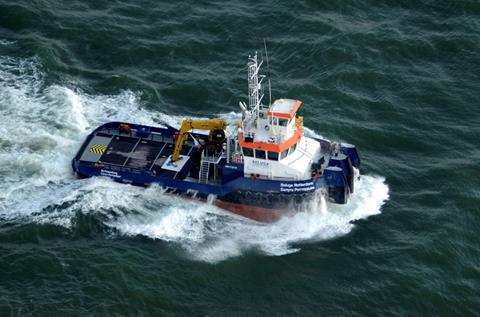 As Beluga operates in some of Russia and the Caspian's most extreme weather conditions, Beluga tasked Neptune Marine to customise the tug to meet Ice-Class 1B requirements. Besides the strengthened steel structure, the machinery on board has also been carefully selected to comply with the class requirements.
The tug features a bollard pull of 40 tons (36.3 tonnes) and a 100-ton (90.7-tonne) capacity anchor handling winch, meaning the unit can be used for a variety of operations.
With its delivery, Beluga now has three tugs in its fleet of owned assets. Last year, a EuroTug 3010 of the same specifications – Beluga Rotterdam – entered operation and has been put to work for anchor handling activities. A fourth tug – Beluga Moscow – will also be joining its fleet. Scheduled for launch in spring 2021, the EuroTug 3430 will have a bollard pull of 55 tons (50 tonnes) – making it the strongest tug in the fleet.
It is not only Beluga's fleet that has been expanding. The company is continuing its development plans inside and outside of Russia and opened new offices in St. Petersburg and Novorossijsk as well as entities in Nuremberg, Germany in February 2020, and in Milan, Italy, during June 2020. These offices join Beluga's branch in Rotterdam, which is in charge of the company's fleet management since June 2018.