Boskalis has commissioned a large-scale shore power facility at its premises in the Waalhaven in Rotterdam, the Netherlands.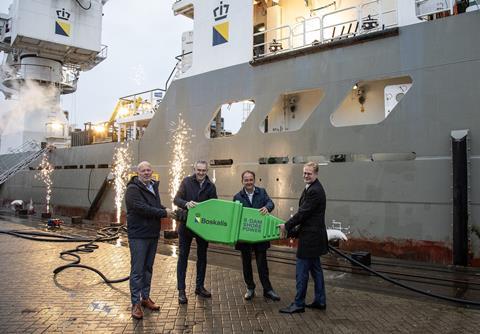 Boskalis uses the facility to mobilise and demobilise vessels for its projects and, from now on, the moored vessels will switch off their diesel-powered generators and use green shore power. In addition, the shore power installation will be used for a variety of land-based electrical equipment deployed by Boskalis to carry out projects in the region.
The shore power installation is expected to result in an annual CO2 reduction of 1,600 tonnes. It is part of a series of measures taken by Boskalis to reduce its carbon footprint and promote the use of renewable energy sources at its offices and service centres. In recent years, for example, many thousands of solar panels have been installed on the roofs of the offices on the Boskalis campus in the Dutch city of Papendrecht and in Singapore, and on the roof of the central distribution centre in Vlaardingen.
Furthermore, a large-scale electric vehicle charging facility was commissioned on the Papendrecht campus; with 252 charging points, one of the largest of its kind in the Benelux region.
Boskalis sources the green shore power from Rotterdam Shore Power (a joint venture between Eneco and the Port of Rotterdam Authority), which owns the shore power installation, with Boskalis having realised the grid connection in-house. The green power supplied by Eneco originates from its Dutch wind and solar sources.