AntwerpXL, which is taking place from December 8-9, has confirmed its conference programme for the 2021 event, including a session chaired by HLPFI's editor David Kershaw.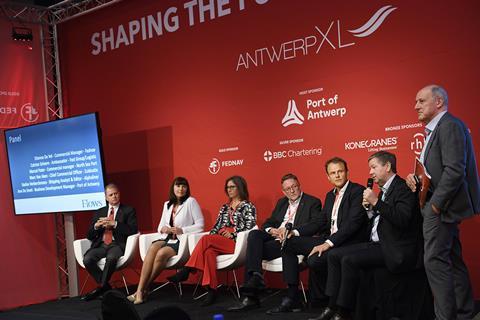 Day one will begin with a networking breakfast hosted by Flows, offering delegates an opportunity to connect and chat with some of the biggest names in the industry. This will be followed by a session on digitalisation featuring speakers from Globis Software, NxtPort, the University of Antwerp and moderated by Peter Bouwhuis, president and ceo of XELLZ Group.
HLPFI's David Kershaw will then kick off the afternoon sessions, looking at recruitment and training with a panel that includes executives from 4D Supply Chain Consulting. This will be followed by talks from Arjun Haring, researcher at the Jheronimus Academy of Data Science and Robin van Emden, AI researcher at SPEED.
Closing day one will be a session on rail and barge, led by Katarina Stancova, senior mobility advisor at the port of Antwerp, with contributions from Peter Larose, head of projects at Conti7.
Day two will begin with a forecasting session on managing the needs of breakbulk and project cargo shippers in a multipurpose shipping market delivered by Kyriacos Panayides, managing director of AAL Shipping, and featuring experts including Dominik Stehle, coo of United Heavy Lift.
The next session will be on sustainability and future fuels moderated by Matthew Moss, head of maritime at KTN, with speakers from the port of Antwerp, port of Roenne and Tank Storage Magazine.
The conference will close with a forward-looking panel on challenges and opportunities for the sector, with speakers from Sotramar & De Keyser, Katoen Natie Port Operations and Fast Lines. This session will be moderated by Andrew Dawes, ceo of Arise Ports and Logistics.