Italian heavy logistics specialist Fagioli has secured three contracts, with a combined value of more than EUR80 million (USD97.4 million), for oil and gas projects in Africa, Asia and North America.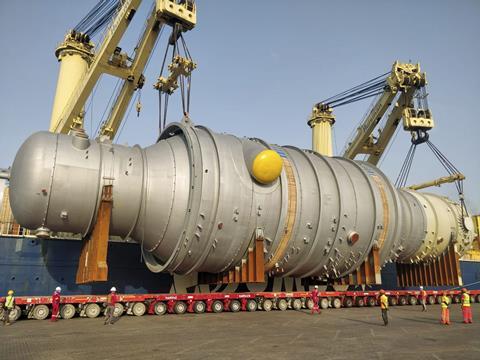 In East Africa, the contract covers project forwarding operations, heavy transport and lifting of modules and equipment for an LNG plant.
Fagioli forms part of a joint venture that has been set up for this project; it will handle the contract through its project forwarding division, while the heavy transport operations and lifting with large crawler cranes will be performed by an operational branch based in the area.
Under the second contract, Fagioli will lift and install seven reactors at a refinery modernisation project in Thailand. The heaviest unit will tip the scales at 2,000 tons (1,814 tonnes); the installation operations will be executed using a bespoke lifting tower system, designed by Fagioli's engineering department.
The third contract was awarded to Fagioli's Houston-based subsidiary. It concerns the handling and installation of process modules for the construction of a gas liquefaction plant in Louisiana.
Currently, 85 percent of Fagioli's orderbook is generated outside its home market of Italy. Fabio Belli, ceo, said: "Fagioli's 2020 turnover will reach about EUR200 million (USD243.4 million), slightly up compared to 2019 – EUR195 million (USD237.3 million). An incredible result considering the health emergency that has affected all continents."