Norway-based service performance and benchmarking analyst Esgian has partnered with shipbroker and market analyst Toepfer Transport to develop a tool geared specifically for the multipurpose shipping sector.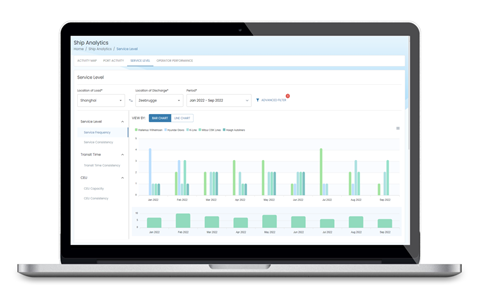 Esgian has been providing performance and emissions benchmarks for the ro-ro shipping sector for one and a half years, together with its strategic partner Hesnes Shipping. That system is underpinned by high-density AIS tracking, each vessel being mapped dynamically to a shipping line taking into consideration which entity has commercial control of the vessel. The results: the ability to model CO2 emissions from each vessel on an hourly basis, and precise benchmarking of each shipping line's commercial footprint in terms of sailing frequency, transit times and reliability between ports, countries, and global regions.
Its multipurpose module will be rolled out shortly, delivering similar insights on the multipurpose and heavy lift shipping sector.
Stian Omli, vice president shipping, believes that customers will benefit from increased visibility when it comes to decarbonisation and commercial matters. "From the outset, tracking vessels with AIS is nothing new nor revolutionary. However, putting this information in a structured context is. Esgian is the first platform that combines decarbonisation/sustainability with commercial analytics in a user-friendly format. Our cloud-based platform is accessible 24/7/365 and does not require any IT integration. For a shipping line to be successful – especially going forward – a firm decarbonisation strategy is warranted, but at the same time delivering a good service to cargo owners cannot be forgotten."
Using AIS data from Spire the module tracks vessel activity and forms the backbone of its offering: CO2 emission modelling and commercial analytics. "With up to 30 coordinates per hour per vessel, you do get a massive amount of data. Data in its own right carries little value – it is how you process, analyse and present the data that matters. Apart from CO2 analytics based on IMO standards, our clients can derive valuable commercial insights into trade routes, port congestion, port efficiency, commercial footprint, vessel activity in terms of share of port time/standby/sailing and average speed to mention but a few," Omli explained.
Toepfer has been brought into the fold and will assist in mapping 1,400-plus ships to more than 60 shipping lines. This should enable users to gain insight at both a company and vessel level. "Moreover, Toepfer will be a very valuable sparring partner in system functionality as it is truly a software 'made by the industry for the industry,'" Omli added.
The system should be "client ready" by the end of June 2023. A preview will be presented at Breakbulk Europe, which takes place in Rotterdam on June 6-8.