The winners of the ESTA Awards of Excellence were revealed at a ceremony in Noordwijk, the Netherlands, on March 17.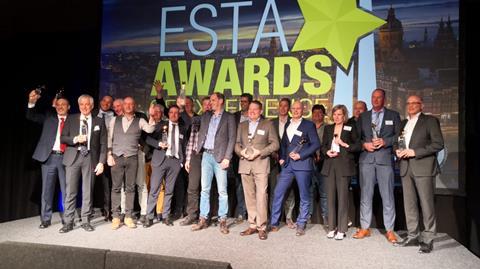 The winner of the cranes, telescopic lifting capacity less than 120 tonnes category was Wagenborg Nedlift, which installed deck sections of a suspension bridge using an articulating loader crane on a spud barge. The other shortlisted entries included BMS Kranar and M J van Riel.
The cranes, telescopic, lifting capacity more than 120 tonnes award went to Schot Verticaal Transport for the handling of six 67-tonne tanks that measured 30 m long. Schot Verticaal Transport deployed a trio of wheeled mobile cranes for the work. Other finalists in this category were BMS, Mammoet and Wagenborg Nedlift.
Competition was tough in the cranes, lattice boom, category, with finalists including BMS, Fagioli, Mammoet and Hareket. Fagioli took home the trophy for this award for a project that required three crawler cranes and barges to lift and remove ship pieces weighing up to 800 tonnes from a wreck in the Italian port of Ravenna.
Fagioli also beat the competition – Heavy Load Service and MJ van Riel – in the transport category for a load under 120 tonnes. The company was recognised for the transport of a 29-tonne transformer from a factory in northern Italy to a power station in the mountains. The work presented multiple challenges, including the altitude, 44 hairpin turns, steep inclines and an old bridge.
Continuing its successful evening, Fagioli then won the transport award for a load more than 120 tonnes. Beating finalists Collett & Sons, Allelys and Kahl & Jansen, Fagioli impressed with the delivery of a 334-tonne gas turbine from Genoa to the Turbigo power station.
The combined techniques award went to Wagenborg Nedlift. A full gamut of lifting and transport equipment and methods has already been used in the first parts of a challenging three-phase project to replace an old canal bridge with a new one. Each bridge weighed 600 tonnes and measured more than 60 m long. Finalists included Fagioli, Hareket and Mammoet.
Liebherr-Werk Nenzing won the safety award for its new 400-tonne capacity LR 1400 SX crawler crane that boasts a raft of innovative operational safety functions, including Gradient Travel Aid, Ground Pressure Reduction System and the Boom Up-and-Down Assistant, all to help warn the operator and make adjustments to the crane, for increased safety.
Taking home its fourth award of the evening, Fagioli once again took to the stage to accept the award for innovation – end user for a challenging project that saw the transport, tilt-up erection and then vertical movement and installation of a 458-tonne reactor vessel in Italy using a 600-tonne crawler crane, 36 lines of SPMTs, a skidding system plus tailing and support frames, all within the constraints of a confined area with many obstructions. Mammoet, Sarens and Viktor Baumann joined Fagioli on the shortlist for this category.
Innovation, manufacturer went to Spierings Mobile Cranes for the use of assisted reality solutions – a remote service technology to help a technician on site with a crane to transmit visual and machine data back to a factory specialist, live in real time, so they can assist with fault diagnosis, service recommendations or a multitude of other things, in a more sustainable fashion than also having to attend site. The shortlist included Cometto's blade lifter type BladeMax1000, Liebherr-Werk Ehingen's crane control system LICCON3 and Manitowoc for the new design for its all-terrain crane carrier cab.
The SPMT award went to Wagenborg Nedlift for the handling of a 73 m, 660-tonne arch bridge at Köthen in Germany. Finalists included BMS, Fagioli and Sarens.
The Gino Koster Award for lifetime achievement paid tribute to the late Jan IJmker – the former Mammoet veteran who passed away earlier this year.