Jumbo China and SAL Heavy Lift's team in Shanghai have started operating under one roof as the two heavy lift shipping giants strengthen the recently launched Jumbo-SAL-Alliance.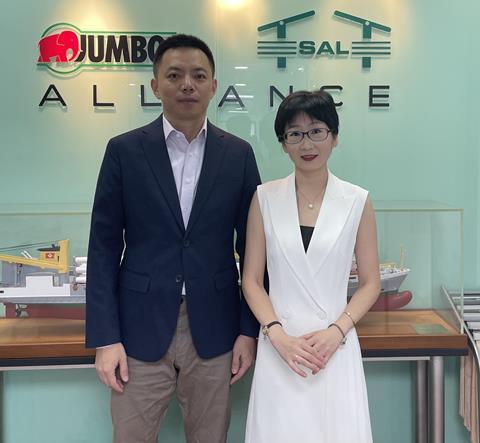 The joint venture was formed earlier this year, as HLPFI reported here.
In China, the team of eight are now residing in a joint office in the Pudong district in Shanghai.
Managing director of SAL Heavy Lift Consulting (Shanghai) and head of Jumbo-SAL-Alliance China, Tina Yi, said: "It is great that we are now all under one roof. Our teams have worked closely together from day one, but being able to sit face to face creates another dynamic and makes our daily commercial operations work even smoother."
Sun Ming, regional commercial manager for Jumbo China, added: "Due to Covid-19 and local restrictions, we had to postpone our moving plans some weeks – but we are happy to be up and running now and bring the Jumbo-SAL-Alliance forward in China. We could from the very beginning feel the effect of synergies between our teams – thus 'stronger together' truly fits our team here".