Crane manufacturer Liebherr is investing in its site in Ehingen, Germany. The upgrades will see its warehouses modernised, and its internal material flows restructured, amongst other improvements.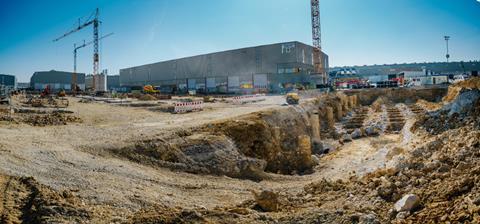 Liebherr said the investment will make its internal processes "future proof."
Ulrich Heusel, production director at Liebherr, said: "Currently around 2,000 mobile and crawler cranes leave our plant in Ehingen every year. That is an extremely high number and represents almost a two-fold increase over the last 20 years. Now there is an urgent necessity to adjust our structures and material flows at the plant accordingly."
The WeLog Project is one such improvement. Its aim is to ensure that materials are stored and transported efficiently and smartly. Internal procedures will be simplified and, according to Liebherr, will result in further improvements to the company's mobile and crawler cranes.
Building work has already begun at the site. The existing main warehouse will be split into a warehouse for spare parts, and a warehouse for standard production – this will see several new buildings being erected. Liebherr said this will guarantee greater availability of components. The spare parts warehouse is expected to be completed and functional by 2024.
The warehouse for standard production of mobile and crawler crane will be further divided into two buildings: one as a pallet warehouse and one as a small parts warehouse and a 'goods supermarket'.
Liebherr said it is also outsourcing its repair centre. Christoph Kleiner, managing director sales at Liebherr, said that this will improve the company's service offering. He added: "This will create some of the space we urgently require for the new warehouse building at the main factory site." The relocation and commissioning of the repair centre building is scheduled for mid-2022.
In addition to the construction work, Liebherr is also introducing an Enterprise Resource Planning (ERP) software package. The ERP system – the InforLN – comprises a large number of inter-communicating IT systems or databases. It will be integrated into the customer service unit in mid-2022. The repair centre will follow suit as soon as it begins operations. By 2024, all Liebherr divisions will have migrated to the InforLN software package.