For the second month in a row, industrial production in China has contracted.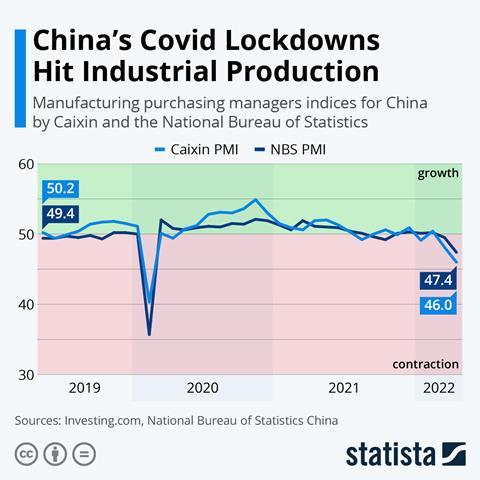 Strict coronavirus lockdowns are hitting Chinese industrial production and the Caixin Manufacturing Purchasing Managers Index and the Manufacturing Purchasing Managers Index by the National Bureau of Statistics read below 50 for the second month running – indicating that the market is contracting.
Market analyst Statista said that the initial Covid-19 outbreak in China and ensuing lockdowns caused factory activity to screech to a halt. However, as it initially followed a successful zero-covid strategy, factory production recovered quickly and continued an expansion course throughout 2020 and until mid-2021.
"Global trade turmoil in the latter half of 2021 and into 2022 saw Chinese manufacturing PMIs hover around the 50-point mark again. The latest developments finally saw the indices tumble, from 48.1 and 49.5 in March to only 46.0 and 47.4 in April, with potential ripple effects for global trade," said Statista.
Source: Statista