Abu Dhabi Ports' Offshore Support and Logistics Services Company (OFCO – Offshore International) and Mammoet UAE have signed a memorandum of understanding (MoU) that will see the two companies collaborate to provide turnkey transport and installation solutions.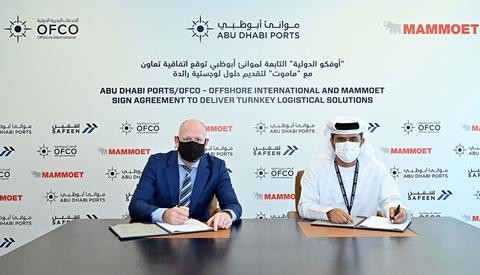 OFCO and Mammoet will work together to create an integrated package for both on and offshore projects in the UAE, with future ambitions to venture further into countries in the Gulf Cooperation Council (GCC).
Paul van Gelder, ceo at Mammoet, said that the "collaboration will reduce the number of interfaces within the logistics chain of projects, enabling the planning and operations to be streamlined, and therefore realising the most efficient and cost-effective approaches".
Captain Maktoum Al Houqani, chief corporate authority officer and head of maritime cluster at Abu Dhabi Ports, added: "By combining each organisation's expertise and resources, we can complement each other's service offering and explore potential operational and logistical synergies, which would allow us to create an integrated, cost-effective solution for the major project market within the GCC and beyond."