Orlen Lietuva has awarded Mammoet the contract for the transport of a 1,800-tonne reactor its hydrocracking facility in northwest Lithuania.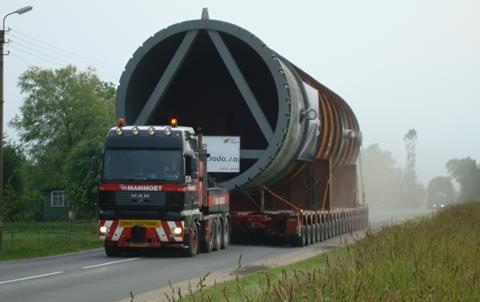 The 100 m-long, 6.5 m-wide and 10 m-tall transport configuration will need to be moved 150 km on public roads from the port of Klaipėda to the Mažeikiai refinery. The operation is scheduled for August 2023 and will be the largest piece of cargo moved in Lithuania, said Mammoet.
Once the unit arrives at the port, it will be lifted off the seagoing vessel and onto 88 axle lines of conventional trailers, which will then execute the operation from port to site.
The most challenging part of the project, Mammoet said, is the preparation of the route. The transport operation will require tailored solutions to cross bridges and manoeuvre around tight corners. Mammoet was asked in 2019 to undertake a study to clarify potential routes for cargo of this size.
Mammoet has a longstanding relationship with Orlen Lietuva, having completed a heavy transport project along a similar route back in 2008 (pictured).