The Seahorse Freight Association Journalist Awards, in partnership with AAL Shipping, recognise and celebrate the best journalism in supply chain, logistics, and transport, as well as celebrating individuals who have gone above and beyond to represent the industry.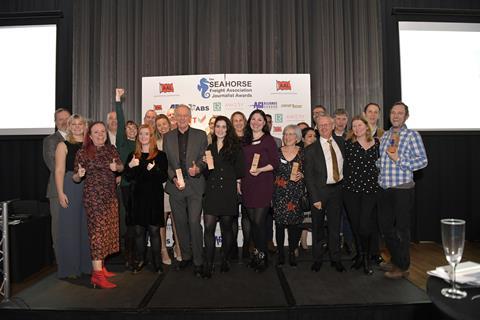 The Seahorse Awards are open globally to any reporter, freelancer, or editor in the industry and aim to recognise great journalism.
The deadline for entries is Friday 10th November 2023, with winners announced at a party on Monday 11th December 2023 at Amazing Grace London, 9a St Thomas St, London SE1 9RY.
Winners will receive a cash prize, as well as being presented with an award on the night.
The awards include 11 categories judged by a panel of independent experts, as well as two that are open to nominations and ultimately decided by the Seahorse committee.
Awards judged by a panel
Journalist of the Year
News Journalist of the Year
Feature Journalist of the Year
Air Cargo Journalist of the Year
Maritime Journalist of the Year
Overland Journalist of the Year
Supply Chain Journalist of the Year
Technology Journalist of the Year
Multipurpose Cargo Logistics Journalist of the Year
Multimedia Journalist of the Year
Rising Star of the Year
Nominated Awards
Personality of the Year
Lifetime Achievement Award
The Seahorse Freight Association is a not-for-profit organisation, established in 1994, with the objective of providing a networking platform for companies in the supply chain and logistics industry to connect with the media who report on them.