Weather intelligence software provider StormGeo has launched a tool to monitor and analyse data ahead of the introduction of shipping into the EU Emissions Trading System (EU ETS).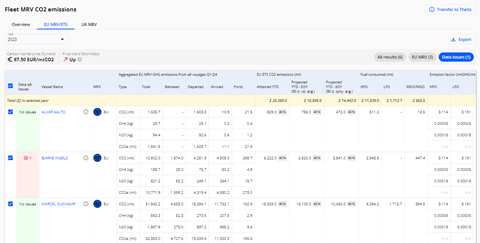 The system enables users to generate, monitor and manage carbon emissions subject to EU ETS, with emissions data on both vessel and fleet levels available in dashboards and EU ETS voyage reports. For reporting accuracy, it also quality checks data through digital validation rules, with the assistance of a dedicated support team.
Other benefits, according to StormGeo, is the ability to customise the length of EU ETS voyage reports and streamlined data sharing and stakeholder collaboration; with the solution users can export and share validated emissions data.
"All data collected onboard through StormGeo's s-Insight platform are thoroughly checked by StormGeo's digital validation rules," said Petter Andersen, senior vice president, shipping digital at StormGeo. "This data stream ensures maximum reporting accuracy, supporting collaboration between owners and charterers in line with commercial requirements."
The EU ETS solution will be available to the market through the s-Insight platform.
Heavy lift and multipurpose ship operators are looking at how they can fairly implement the EU's Emissions Trading Scheme (ETS), with costs that could run to thousands of euros a day, per vessel. Ships travelling between EU ports will have to hand over ETS allowances for 100 percent of their emissions. Ships arriving at an EU port from beyond the bloc must pay for 50 percent of its emissions.
The scheme, which comes into force on January 1, 2024, will gradually increase in scale. As of next year, ships over 5,000 gross tonnes will have to surrender allowances for 40 percent of their emissions, going up to 70 percent by 2025 and 100 percent by 2026.