Japanese transport company Achiha has taken delivery of equipment from heavy-duty trailer manufacturer Faymonville for the transport of wind turbine components.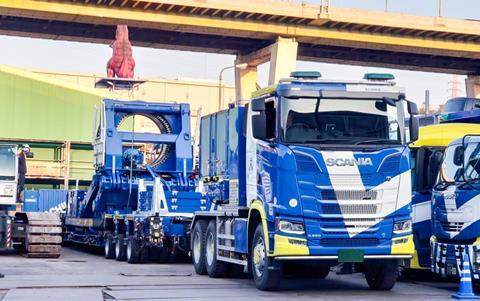 The company recently added 3+4 G-SL modular axle lines with a drawbar system. When combined with the blade lifter trailer from Cometto, Achiha has the capacity to handle wind turbine blades for last mile delivery.
With BladeMAX650 series blade lifter, rotor blades can be picked up, raised to an angle of almost 90 degrees, and swivelled and rotated by 360 degrees. A third vertical rotary axis enables a lateral swivel angle of 20 degrees.
Thanks to the levering device, Faymonville said the position of the centre of gravity remains stable when the blade is moved from the vertical to a horizontal position.