Liebherr has upgraded Ainscough Crane Hire's LTM 1750-9.1 crane, increasing its lifting capacity to 800 tonnes.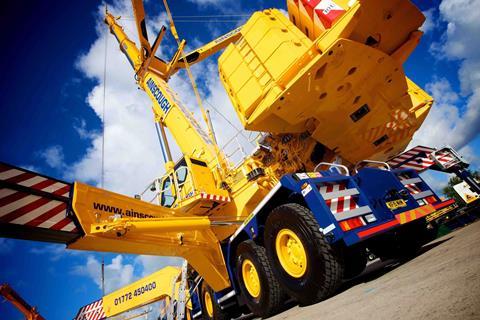 The nine-axle crane could previously lift 750 tonnes, but updated software and the use of refined static calculation methods on the existing crane has enabled lifting capacity values to be increased.
The upgraded crane – which will keep its original name LTM 1750-9.1 – also features a new luffing jib configuration, which uses existing lattice sections to provide more than 10 tonnes of additional lifting capacity. Ainscough said this makes the crane suitable for use on wind turbines with 90 m and 100 m towers.
Andy Clark, planning and technical support manager at Ainscough, said that "an already strong crane has been significantly improved. Some of the increases in capacity at heights over 100 m are really impressive and will allow us to deliver complex lifts on projects in a more efficient way."