Ainscough Crane Hire has commenced the first stage of its GBP30 million (USD42.5 million) investment programme, which will see 37 cranes added to its fleet by the end of 2021.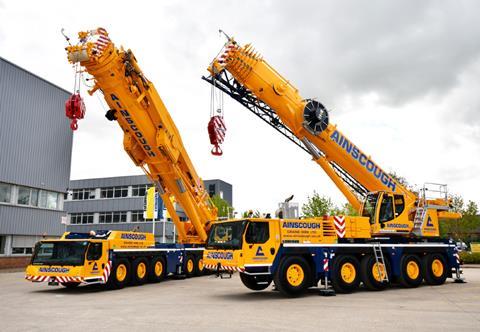 Last month, the company welcomed a 650-tonne capacity Liebherr LTM1650-8.1 crane to its fleet, as HLPFI reported here.
Ainscough is also due to take delivery of models including the LTM1040-2.1, LTM1060-3.1, LTM1090-4.2, LTM1110-5.1 and LTM1230-5.1. Following this initial stage of investment, more cranes will be added during 2022 and beyond, Ainscough said.
The company said the boosting of its fleet reflects its commitment to supporting its customers in delivering the key construction and infrastructure projects that will drive forward the Covid-19 economic recovery, such as HS2 and other developments.
The cranes will have the latest single engine technology and comply with exhaust emissions regulation Stage V. With the ECOdrive and ECOmode capabilities, the Stage V engine is designed to reduce fuel consumption by up to 10 percent, as well as reducing noise and carbon emissions.
Peter Gibbs, ceo at Ainscough, said: "The diverse range of innovations and capabilities that these cranes offer all prioritise safer and more productive solutions for our customers.
"The construction industry has a big part to play in helping the country bounce back from the Covid-19 pandemic, and our investment programme has been guided by the needs of our customers."