Airpes – a manufacturer of lifting, weighing and below-the-hook equipment – has shipped the first in a series of spreader beams that will be used in the assembly of wind turbines.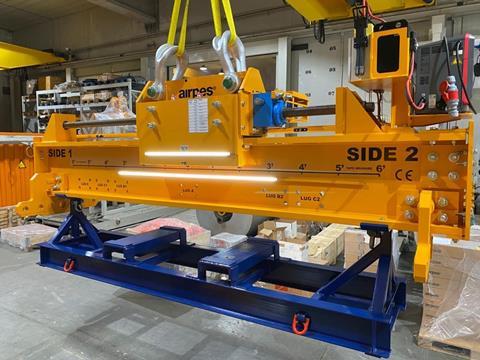 Airpes manufactured the 75-tonne capacity adjustable spreader beam at its main factory near Barcelona, Spain. The custom beam weighs approximately 5 tonnes and measures 10 m.
It will be utilised beneath the hooks of various overhead and mobile cranes ranging in capacity from 100 to 400 tons (90 to 360 tonnes).
Tad Dunville, general manager at Airpes Americas, said: "The beam is designed for safety and flexibility. It can work under most reasonably similar cranes of that capacity and has features that allow it to quickly be moved from crane to crane and also refocus on somewhat different loads."
According to Airpes, the primary use of the beam will be to lift almost-finished products in the final stages of manufacturing and assembly processes in the USA, India and Germany.
Airpes also delivered additional rigging gear. "Our customers expect us to deliver a whole package. That means the ancillary features are no longer ancillary. If they have to hunt around for five days to find a shackle that we regularly buy, it does not add value," said Dunville.
"Same with logistics and product support; we are quickly signing up partners in a support network, because our customers want a solid base to operate from."