Finland-based AT Special Transport deployed Faymonville's CombiMAX modular trailer system to transport a 195-ton (176.9-tonne) tank through Estonia.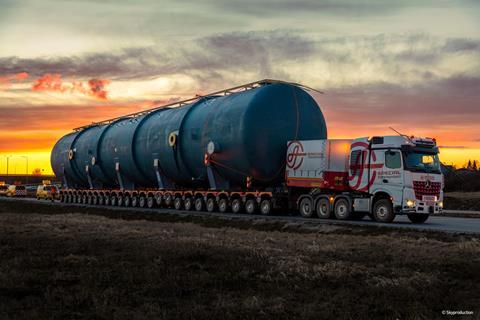 AT Special Transport deployed 26 axle lines of Faymonville's CombiMAX modular low-loaders to transport the feedwater tank 60 km from the manufacturer's facility in Jüri to Paldiski. From there, the tank will be shipped to Uruguay for the construction of a pulp mill.
AT Special Transport's Jonas Ahola said that the team carried out simulations to ensure the long convoy could navigate tight turns, roundabouts and other challenging crossings.
Ahola continued: "Many power and phone lines needed to be cleared. And it was a huge job to arrange train stoppage for three days and making the power lines loose so they could be lifted enough.
"The route went through small roads because many of the bridges do not take this weight. This means that also the small roads needed to be checked for baring capacity. With the modular vehicle CombiMAX and its pendle-axles, we offer 12 tons [10.9 tonnes] of payloads per axle line to protect the ground correctly," Ahola added.