Germany-based Baukran Logistik (BKL) has taken delivery of a Liebherr 1650-8.1 mobile crane – the first of its type in the country.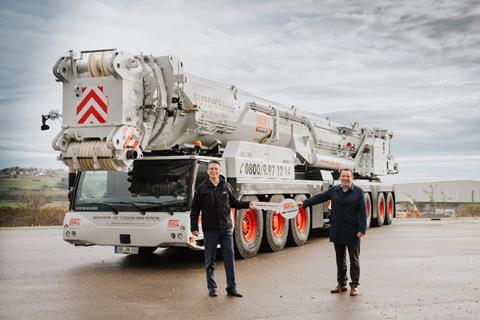 Liebherr unveiled the 700-tonne capacity crane at the bauma 2019 exhibition. The eight-axle crane can be supplied with two telescopic boom lengths – 54 m or 80 m. A lattice jib enables the crane to achieve hook heights of up to 151 m and a radius of up to 112 m.
BKL said the main decision behind the investment was the high lifting capacity. Alexander Volz, owner of BKL, explained: "The good lifting capacity values of the LTM 1650-8.1 particularly impressed us. In addition, we also expect this Liebherr crane to retain its value as well as other models."
Jörg Hegestweiler, managing director, added: "One of the major logistics benefits of the LTM 1650-8.1 is the compatibility of the ballast slabs with other Liebherr cranes in our fleet, such at the LTM 1350-6.1, and LTM 1450-8.1."
The crane will be used for the installation of prefabricated parts, industrial construction, as well as to erect and dismantle large top-slewing cranes.
BKL also took delivery of a LTM 1110-5.1 at its Rosenheim site in Germany recently.