Irish material handling solutions provider Combilift has launched the Combi-XLE ­– an electric-powered multidirectional forklift – in response to growing customer demand for sustainable equipment.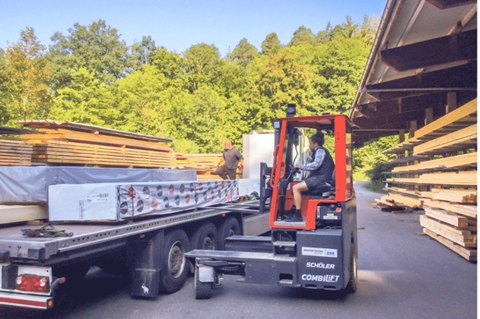 The 5-ton (4.5-tonne) capacity Combi-XLE model incorporates high ground clearance; large, cushioned front and rear tyres; all wheel traction control; and a spacious cab.
Options for outdoor electric vehicles are currently limited, according to Martin McVicar, ceo and co-founder of Combilift. The vehicle has been designed to offer better traction in slippery conditions, such as ice or snow, but it can also be used indoors, offering customers the choice of both, McVicar said.
McVicar said the product was a "game changer for bringing electric vehicles for outdoor applications and making them reliable."
Moreover, Combilift used off-the-shelf components in the design, which means they are well proven and tested.
McVicar went onto explain that Combilift has done a "deep dive" into the components that make up its forklifts. 92 percent of components are 100 percent recyclable, he said. The company is now investigating the remaining 8 percent that are partially recyclable.
Regarding sustainability goals, Combilift's aim is to examine how its products can makes its customers' businesses more sustainable, explained McVicar. If its vehicles can allow them to "do more in less space," for example, then that is one way to achieve that.