Equipment manufacturer Enerpac has added an EMLS/EMV series battery-powered machine skate for moving heavy industrial machinery in confined spaces.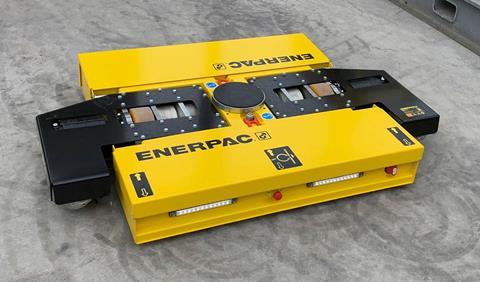 The ASME B30.1-compliant skate features dual-drive motors, a 360-degree tilt swivel saddle and is capable of both lifting and transporting units of up to 49 tonnes in confined spaces where conventional methods are either labour intensive or unsafe, said Enerpac.
Fully loaded, a single user can wirelessly operate the skate while moving loads up to 8 m per minute running for up to three hours on a single charge.
With a focus on safety, the skate keeps loads close to the ground, reducing the overhead clearance required to move through a facility. According to Enerpac, the self-propelled skate can move loads up to four times faster than conventional methods.