Grúas y Transportes Ibarrondo has taken delivery of the first Liebherr LTM 1650-8.1 mobile crane in Spain.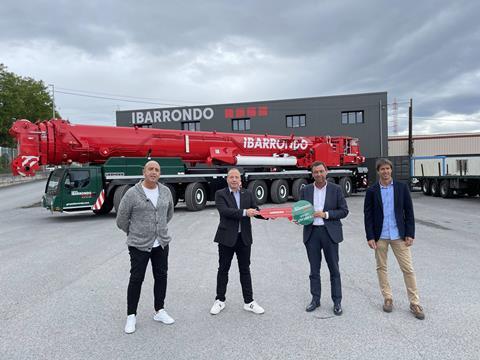 The eight-axle unit is more powerful than its predecessor the LTM 1500-8.1, explained Liebherr, meaning that the unit can tackle challenging hoisting work in the 700-tonne class.
The LTM 1650-8.1 has inherited two important concepts from the LTM 1500-8.1: it is available with two telescopic boom lengths of 54 m and 80 m, and it features Y-guying that has been specially developed for telescopic booms. Liebherr said that this increases lifting capacity and improves lateral stability significantly. The crane also boasts a 91 m-long luffing jib and a 62 m-long fixed jib.
Managing director Mikel Ibarrondo said: "Purchasing this new Liebherr mobile crane is another step towards cementing our competitive position in our markets. The eight-axle crane will be profitable for us thanks to its high technical development. And then there is also the fact that the concept behind the LTM 1650-8.1 is designed for sustainability in the form of its ECOdrive.
"We can use the LTM 1650-8.1 for a wide range of jobs. This is essential for us as we operate in various, widely differing sectors, including public and private construction, industry, ports and wind farms," Ibarrondo added.