Mammoet's 2,500-tonne lifting capacity Focus 30 crane has completed its first project at a refinery site in the UK.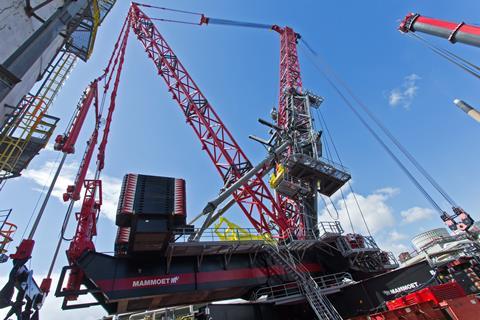 The Focus 30 lifted a column in tandem with a 500-tonne capacity mobile crane.
The crane was first manoeuvred in sections around key infrastructure and its boom was raised within the area of the crane's own footprint. As it is erected vertically in sections, the Focus 30 requires no laydown area during assembly of its boom, which means less infrastructure needs to be disrupted or closed during its use, Mammoet explained.
Mammoet first transported the new column approximately 3 km from a local port, using 36 axle lines of SPMT. It was then positioned in a staging area so that the transport arrangement could be reconfigured to suit onsite requirements.
Once it reached its installation location, the Focus 30 and a 500-tonne capacity mobile crane were used in tandem to lift the column and set it securely on its foundations.
Mammoet said that the use of the Focus 30 meant that refinery activities in other areas of the site were able to continue due to the crane's small footprint during assembly.