Germany-based Fröhlich Bau Kran & Baustellenlogistik has expanded its fleet with the addition of the Nooteboom 4+6 EURO-PX low loader.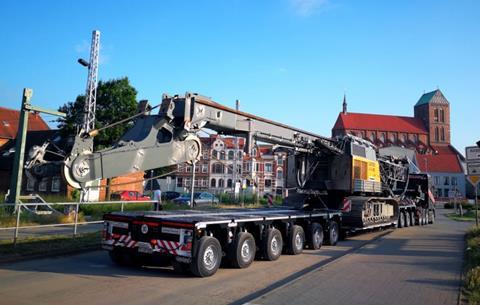 Nooteboom said that the trailers' specifications are particularly suited to the permit procedures in Germany, with an axle distance of 1.51 m. With its 12-tonne axle load at 80 km/h, loads of approximately 100 tonnes can be transported. These specifications simplify the permit procedures in the individual German federal states, said Nooteboom.
Fröhlich Bau Kran & Baustellenlogistik will use the low loader primarily for the transport of loads weighing up to 85 tonnes, such as construction machinery, general cargo and crane loaded goods.
Rainer Fröhlich, managing director at Fröhlich Bau Kran & Baustellenlogistik, explained the decision behind the investment: "The low loaders are easy to operate for our drivers compared to alternative brands. The big advantage is that we can now easily combine all type of low loader configurations… This is a much cheaper and more efficient alternative than the more complex and more expensive module trailers."
The order also included a Nooteboom 2-axle IC Interdolly and several loading floors.