GN Rope Fittings – a leading manufacturer of ROV, mooring, heavy lifting and rigging connections to the global oil and gas and offshore wind industries – has built a forged shackle with a working load limit of 3,000 tonnes.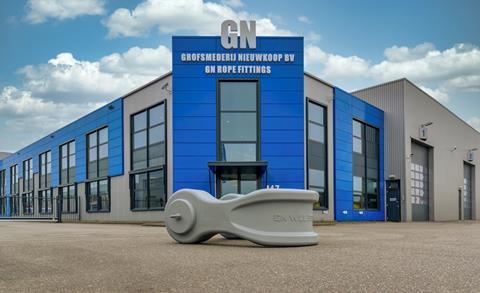 Commissioned by IQIP, the shackle will be part of a system for the monopile installation of offshore wind turbines. It was forged and produced at GN Rope Fittings' sole manufacturing facility in Nieuwkoop, the Netherlands.
At the client's request, the bow was designed in a D-shape – not the conventional omega shape. The bow radius and the jaw opening are larger than for standard shackles, while additional features include a shaft for the installation of the pin.
The shackle was load tested to DNV lifting standards, followed by a non-destructive testing inspection.
Bart Vossenberg, director at GN Rope Fittings, said: "We're witnessing an increasing demand in larger capacity equipment for renewable energy projects and we're grateful for the opportunity to contribute to the growth of this industry."
GN Rope Fittings said that it is the world's largest forged shackle, surpassing a record it previously set in 2016 with its 2,500-tonne shackle.