Goldhofer is offering its Stepstar range of semi low-loader trailers with wheel recesses and a mega gooseneck.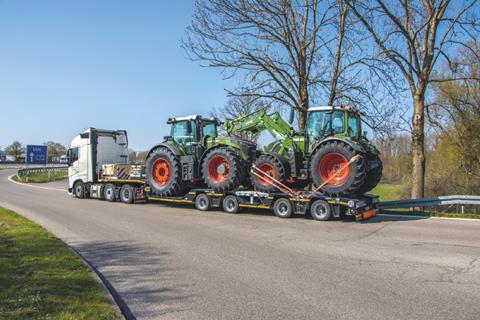 The three- to five-axle semi-trailer range was launched in 2020 and can handle payloads up to 70 tonnes.
Robert Steinhauser, sales director at Goldhofer Europe and North Africa, said the latest modifications to the range make them suitable for a wider range of applications. The upgraded series comes with a choice of one or two pairs of wheel recesses. Goldhofer said this enables taller construction machines to be transported where maximum height regulations would otherwise be a problem.
The wheel recesses have a low entry angle and cross ribs for safe loading with wheeled vehicles with a low approach/departure angle. The depth of the wheel recesses can also be adjusted to the ground clearance of the machine to be loaded.
The optional mega gooseneck reduces the height difference between the loading area and the gooseneck, this permits transportation divided loads, general cargos, and a 40 ft container or two 20 ft containers for a total rig length of 16.5 m.