German trailer manufacturer Goldhofer has launched the FTV 850 for the transportation of wind turbine blades.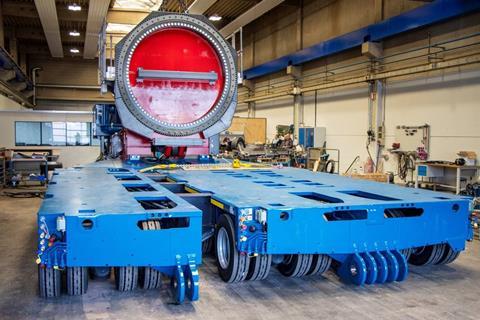 The FTV 850 blade transporter, which can be mounted on split modules, has been launched as the successor to the FTV 550. According to Goldhofer, the FTV 850 is ideally suited for transporting extra-long rotor blades for turbines on sites with low wind speeds.
Goldhofer said that the blade transporter can be used not only in the standard 3 m width but also with split combinations in widths of up to over 4 m.
The mounted rotor blade can also be freely rotated around its own axis and raised up to an angle of 60 degrees to navigate tight bends, buildings and roadside trees.
In addition, the FTV 850 is designed for fast and efficient set-up and can be combined with a range of Goldhofer modules, such as the PST/SL-E, THP/SL and ADDRIVE.
The first FTV 850s are already on their way to crane and heavy haulage companies Anipsotiki, Denzai and Laso Transportes.