Portugal's Laso Transportes has invested in four tower adapters from heavy haulage manufacturer Nooteboom.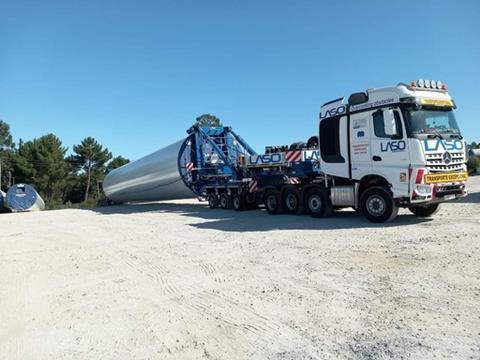 The investment follows Laso's earlier acquisition of four tower adapters from Goldhofer, bringing the total number of units in the company's fleet to eight.
The Nooteboom equipment has load capacities up to 120 tonnes. They can be combined with dollies and other heavy modules in Laso's fleet, while the integrated swivelling device helps with complex manoeuvres.
"The company specialises in providing road transport services for conventional and special goods has as a priority to make special transport more and more efficient," said Laso. "Therefore, all investments in a new fleet are oriented in this direction. With this equipment, the capacity to transport segments of all types of wind components with greater precision, efficiency and safety will be reinforced."
Earlier this month, Laso also bolstered its fleet with 18 Mercedes-Benz Actros 6x4 heavy-duty prime movers.
Laso said the investment in its fleet will improve its efficiency in special and long-distance transport. The company's focus on sustainability is also a factor, with the trucks featuring Euro VI emission technology.