Construction of the heavy lift crane that will be installed on OHT's newbuild wind turbine installation vessel Alfa Lift is progressing at Liebherr's facilities in Rostock, Germany.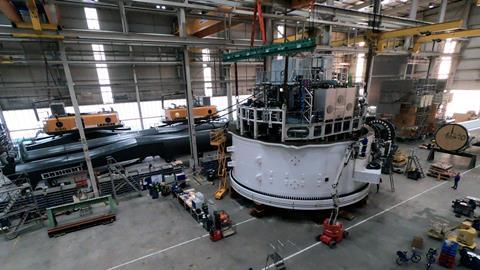 When complete, the crane will have a maximum lifting capacity of 3,000 tonnes at an outreach of 30 m and 1,000 tonnes at a 76 m outreach.
Recently, Liebherr completed the wedding phase of construction – the lowering of the machinery frame into the lower slewing column. This is an important milestone for a crane of this size, said Liebherr, as it establishes the foundation for further construction.
The next phase of the project will see the electrical and hydraulic connection of the two components. As soon as these activities are finalised, the connection between the upper and the lower slewing unit will take place.
The crane for Alfa Lift – the HLC 150000-3000 – is a result of close collaboration between OHT and Liebherr. Torgeir E. Ramstad, ceo of OHT, said: "Working in an open and collaborative manner with Liebherr has become an essential element in the development process of Alfa Lift and her onboard equipment. Making sure the operational criteria and limitations of the crane are viewed with a holistic approach, taking into account the vessel's motion characteristics and capabilities of other mission equipment onboard, is key."
Alfa Lift is currently under construction in China and is due for delivery next year.