In its 2021 sales year, Liebherr said that demand for its mobile harbour cranes with electric drive has risen sharply. Compared to 2019, the number of units equipped with an electric motor has doubled.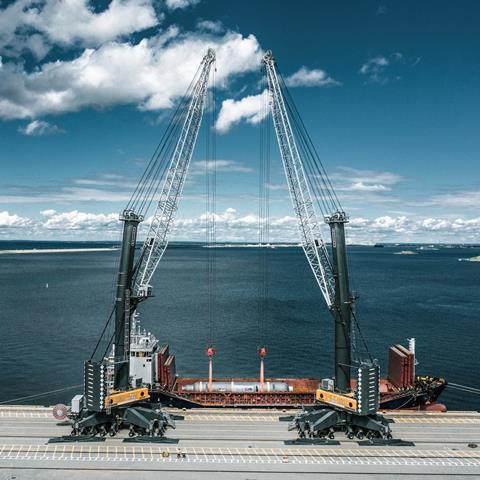 Liebherr has been offering a hybrid drive concept consisting of a diesel engine and an electric motor for its maritime mobile harbour cranes for over 20 years.
The diesel engine is used exclusively for moving the crane along the quayside. As soon as the crane has reached the desired position, the machine is connected to the local power grid by cable. The actual handling of goods is thus possible without emissions.
All Liebherr mobile harbour cranes are equipped with the hydrostatic drive concept. The principle is based on a main drive that supplies power to pumps and a hydraulic transfer gearbox. The main drive can be a diesel engine or an electric motor. All energy-consuming movements are connected to a closed hydraulic circuit and are fed by it when required. Closed hydraulic loops are used for all main functions such as hoisting, slewing, and luffing.
It added that more than a third of all Liebherr mobile harbour cranes on order have an e-drive installed – and the trend is rising. Retrofitting electric drives is also possible and is increasingly being used by mobile harbour crane customers.