Mammoet is progressing with the development of a wind turbine assembly (WTA) lifting system for the erection of onshore wind turbines.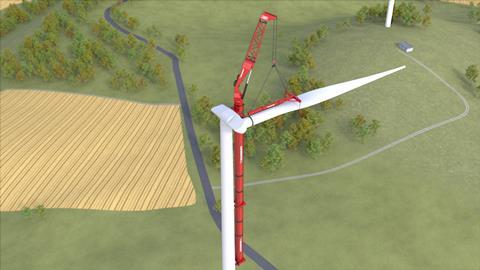 The WTA assembles wind turbine generators by attaching directly to the tower itself, using a series of clamps to self-assemble and then climb to each lift location. It assembles tower sections, hubs and nacelles, and has a capacity of 150 tonnes.
Mammoet first introduced a concept of the WTA back in 2017, as HLPFI reported here.
It has been developed in response to the increasing wind hub heights, which are growing beyond the reach of conventional crawler cranes.
The heavy lift specialist said the WTA can keep working when conventional crawler cranes cannot. It operates in wind speeds up to 20 m/s, reducing downtime during construction and extending the build season. It is also much smaller and lighter than a crawler crane, which allows for a more cost-effective mobilisation.
Powered entirely by electricity, Mammoet added, the WTA also paves the way towards emissions-free turbine erection.
The WTA system is now design-ready and is expected to enter the market during the second quarter of 2023.