MSG Krandienst (MSG) has taken delivery of a Grove GMK4100L-1 and a GMK5150L crane at the Manitowoc factory in Wilhelmshaven, Germany.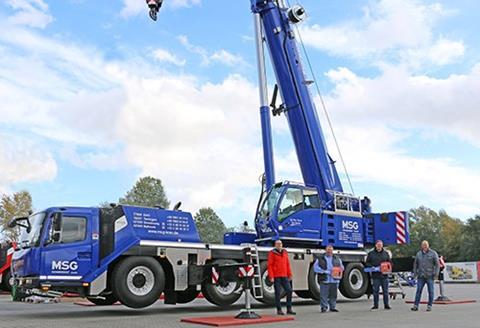 The GMK5150L – which replaces its predecessor, the GMK5130-2, in MSG's fleet – features a 60 m mast and 11.8 tonne load capacity when the boom is fully extended.
The GMK5150L features aluminum alloy wheels, the Manitowoc Birdview 270-degree camera systems, and a 17.8 m hydraulic swingaway jib.
Björn Jatz, managing director at MSG, said: "The jib comes into play when we are carrying out special chimney filter changes in steel mills, for example, or completing roof work from a distance. That is when we need the strong load charts and long reach the 150-tonne Grove offers us."
The GMK4100L-1 replaces a competitor crane in MSG's fleet. The 100-tonne capacity crane has a vehicle width of 2.55 m, which Manitowoc said allows it to travel to "even the most confined city centre job sites."
The GMK4100L-1 can carry up to 6.7 tonnes of counterweight with 12 tonnes per axle and has a 60 m-long main boom.
Jatz added: "With a 48-tonne driving permit, the crane [the GMK4100L-1] can be moved to any project comprehensively. The Megatrak independent suspension on the GMKs is another unique selling proposition for Grove. It gives us the necessary ground clearance when the terrain off-road becomes more difficult."
MSG currently offers customers a total of 16 Grove cranes from its four locations in Germany and France, ranging from the GMK3060 to the GMK6400. The cranes are usually deployed for the assembly of pre-cased concrete and steel construction elements, or as auxiliary cranes in the wind energy sector.
MSG said the all-terrain cranes will strengthen its capabilities at its main facility in Kehl, Germany.