Nooteboom has added a lightweight three-axle OSDS semi-low loader with hydraulic gooseneck ramp, an extendable loading floor and tracking steered axles to its range of trailers.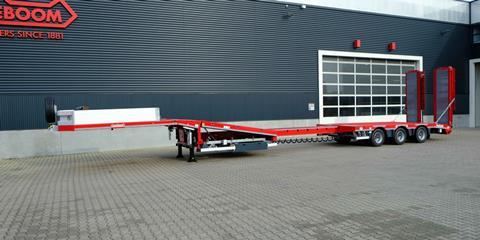 The semi-low loader is an ideal transport solution for construction machines and aerial platforms up to 36 tons (32.7 tonnes), said Nooteboom.
The hydraulic gooseneck ramp has an optimal angle of inclination in combination with the adaptable gooseneck. For example, smaller aerial work platforms and construction machines can be driven up the gooseneck and the full length of the trailer can be optimally used for transporting loads.
The loading floor in combination with the hydraulically adjustable gooseneck ramp is extendable by 3.73 m to 12.73 m behind the gooseneck.