The Netherlands-headquartered trailer manufacturer Nooteboom has added a three-axle drawbar semi-low loader to its product range.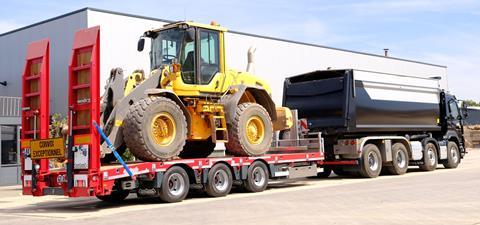 The ASDS-33-03(EB) is suited to the transport of smaller and medium-sized machines. It is expected to find employment primarily in France, Belgium, and the Scandinavian market.
Nooteboom said the model has a robust chassis; including the 3 m-long hydraulic ramps the deadweight is approximately 6.7 tonnes. Thanks to its lightweight construction, the technical payload is 33 tonnes at low speed, and 25.8 tonnes at 90 km/h.
The low height of the loading floor (860 mm) also makes this trailer suitable for transporting high loads, said the manufacturer, which added that manoeuvrability is enhanced with a self- steering rear axle. Air suspension is equipped as standard and offers a height stroke of 200 mm.
The drawbar of the centre axle trailer is available in two different lengths, 1,750mm and 2,000mm. The drawbar is equipped with an interchangeable towing eye for use in different countries and is available in three different diameters: 50 mm, 57.5 mm and 68 mm. Configurable aspects include a removable headboard, lift axle, width enlargement, stake pockets, storage rack under loading floor, width marker boards, among others, said Nooteboom.