Nooteboom has unveiled the OSDS-48-03V(EBW) extendible lightweight semi low loader with wheel wells.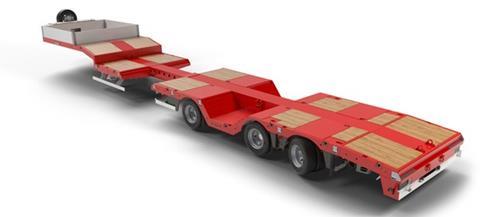 The three-axle semi low loader with self-tracking axles has a payload of up to 39 tonnes at 80 km/h.
The wheel wells allow for larger types of wheel loaders and articulated dump trucks to be transported. The asymmetric shape of the wheel wells also makes it easier to unload wheeled loaders, Nooteboom said.
In addition, the short axle distance between the first and second axle contributes to optimal manoeuvrability.
Nooteboom added that the OSDS-48-03V(EBW) is multifunctional. It is not limited to the transport of wheel loaders and dumpers, but also divisible loads, containers, and tracked construction machines. The wheel wells can be closed, creating a flat loading floor. For this purpose, Nooteboom said that removable galvanised supports with integrated sliding width enlargers and hardwood floorboards are available.