Raimondi Middle East has erected 11 topless tower cranes at UAE-based developer Arada's project site in Sharjah.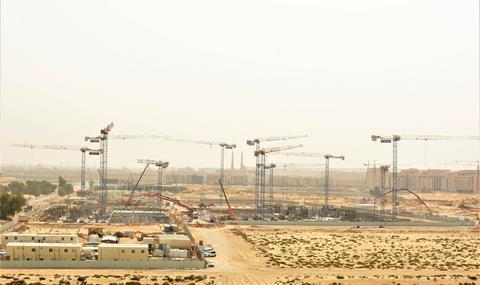 Raimondi positioned six MRT 111s and five MRT 159 flattop tower cranes onsite for the construction of the East Village of the Aljada development.
Wael Hasan, commercial director at Raimondi Cranes Middle East, said the cranes were chosen for their maximum lifting capacities of 8 and 10 tonnes, respectively. "The cranes are also all fitted with the Raimondi Deluxe R16 crane cabin, and in terms of technology have the company's latest iterations," he added.
The MRT 111s, currently at work with jib lengths ranging from 42-50 m, are freestanding with a height under hook (HUH) between 38.55-47.2 m.
Raimondi said the MRT 111 remains one of its most popular models due to its versatility in tower height and its high-performance hoist speed and tip load.
The Raimondi MRT 159s, also freestanding with a HUH ranging between 31-47.2 m, offer jib lengths from 42-50 m. The MRT159 also arrives onsite with all parts preassembled, ropes passed, and rope connections installed, facilitating easier onsite integration and installation, Raimondi said.
Hasan said the project required careful planning: "Due to the layout of the jobsite and the substantial number of cranes operating simultaneously, the project presented specific challenges."
The cranes, positioned across three different plots on the large-scale development, will lift site materials as part of the development's ongoing construction over the next year.