Riga Mainz deployed a Liebherr LTM 1650-8.1 crane to position a large pontoon, measuring over 20 m in length, in a recently flooded pit as part of expansion of a gravel plant in Babenhausen, Germany.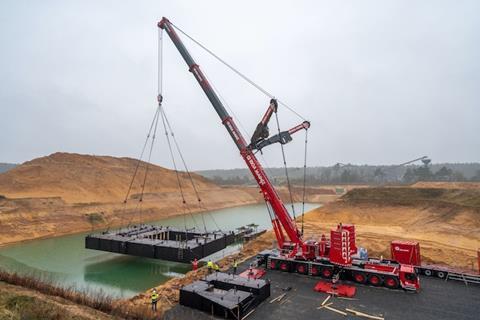 The eight-axle mobile crane was set up parallel to the pontoon with the lake at its rear. The gross load was approximately 70 tonnes and it had to be positioned at a radius of 25 m. The LTM 1650-8.1 was set up with its full slewing platform ballast of 155 tonnes for the work.
"To attach the large load, we had to work with rope pulleys and fastening equipment of different lengths due to the fact that the centre of gravity was far from central," explained Riga Mainz managing director Uwe Langer.
"First of all, however, we had to calculate the load case for the hoists using the material thicknesses of the floating section as there were no precise data available about the weight of the pontoon. That then enabled us to develop our hoisting concept. In addition, as a result of how close the crane set-up area was to the edge of the embankment, we had to carry out geological studies of the subsoil. We had to ensure that the ground pressure under the load distribution mats would not cause the soil to collapse.