Sarens has taken delivery of a Liebherr LR 11000 crawler crane and has put the machine to work erecting 4.65 MW wind turbines at the Oostpolder wind farm in the Netherlands.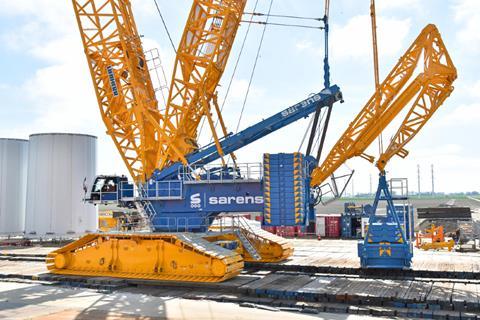 The LR 11000 features the latest crawler crane equipment, Liebherr explained, such as the SL10DF2BV wind power boom system.
According to Liebherr, the SL10DF2BV wind power boom system delivers maximum lifting capacities for the economical erection of the very latest generation of wind turbines with hub heights of up to 180 m. For these turbines, the LR 11000 reaches a hook height of 192 m and can hoist 110 tonnes.
At the Oostpolder wind farm, Sarens assembled the new 1,000-tonne capacity crane with a 162 m main boom and 12 m fixed jib to lift Enercon E-136 EP5 wind turbine components. This configuration enables the crane to hoist up to 156 tonnes with hook heights of up to 174 m.
Speaking of the decision to acquire the crane, Pascal van der Spoel, Sarens project manager, said: "We decided to purchase the LR 11000 because it has a very flexible derrick system with VarioTray and V-frame. What's more, its boom length and capacity are ideal for the projects we have scheduled".
Sarens also ordered additional equipment for the LR 11000, which enables it to convert the wind power boom into a powerful luffing jib system for use in industrial environments.