USA-based Standard Concrete Products (SCP), a manufacturer of prestress concrete bridge beams and concrete pile, added two 100-tonne capacity DB110 Shuttlelift mobile gantry cranes at its Tampa plant.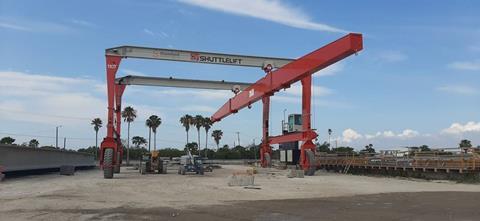 The DB110 mobile gantry cranes join two ISL70B and two ISL100 models from Shuttlelift that Standard Concrete purchased in 2005 and 2006. Those original models were used to accelerate the production and reopening of the Escambia Bay bridge and Bay of St. Louis bridge after the devastation from Hurricane Katrina.
The gantry cranes will be key for the company's next bridge project and future business. Kurt Podoll, division manager at SCP, explained: "SCP purchased these two 110-ton (100-tonne) cranes accompanied by the 138 ft (42.1 m) long spreader beams to help facilitate the construction of a new construction bridge project in Pinellas and Hillsborough counties, Florida. The I-275 (Howard Frankland Bridge) project stretches from east to west across Tampa Bay waters."
Both DB110 cranes have added wheelbase length to accommodate the large spreaders designed and built by Shuttelift.