For safe and efficient crane operations, trained operators who can make smart, fast, and accurate decisions are ideal. Finding the right people is a growing challenge, and crane manufacturer Tadano believes technology will be a great weapon in solving the problem.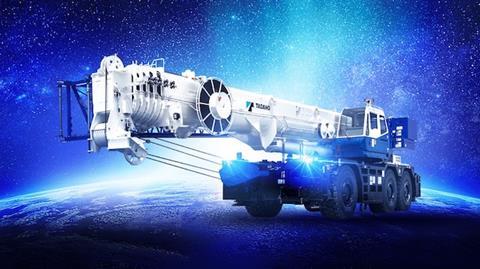 Tadano recently organised its first open innovation competition with a goal of creating a motion control AI that can execute crane operation simulations. Fumihiko Futaba, assistant manager of the Tadano Advanced Research Technology Center, oversaw the competition. He noted that while Tadano has already engaged in joint research with companies and universities, this public competition offered an opportunity to "take open innovation activities one step further."
Tadano partnered with Signate – a data science platform that promotes problem-solving collaboration efforts between companies, government agencies, and research institutions, often through challenge competitions.
Tadano's crane simulation task proved one of the most challenging and rewarding, as it offered the highest prize money in the competition's history. 1,033 participants accepted the challenge and a total of 1,150 entries were received. "This competition was not a simple data analysis, but a difficult and unprecedented task of running a simulator to build a control AI," said Futaba.
Toshiaki Ujiie, president and ceo of Tadano, added: "Tadano makes heavy equipment products that are large and sophisticated. These cranes operate in challenging environments, which are impacted by such trends as decarbonisation, the ageing of the general operator population, and lifting operations characterised by long wait periods with suspended loads.
"To meet these challenges, it is necessary to take on such product development initiatives as electrification, automation, and remote control."
The complexity of this challenge required seminars with technical support to educate participants on cranes and their operation. Participants were judged on the speed, accuracy, and safety of load lifts executed during arbitrarily determined slewing operations, all of which require complex calculations.
"Crane operation requires skill; it is difficult to balance out misalignments, while managing load sway and speed," explained Kaoru Nasuno, ceo of DeepX, which provided the simulator. "With this in mind, the winners' innovative approaches were very impressive. However, when those algorithms are applied it is necessary to adjust details such as dealing with load sway and feedback control against wind."
On January 28, 2022, an online ceremony was held to award the winners, who gave presentations of their individual or team solutions, followed by a Q&A session and commentaries from experts.
The top winner was Team Nssol, which consisted of four members of the Systems Research and Development Center at NS Solutions.