Mammoet has utilised the Trailer Power Assist (TPA) system – a joint development with Scheuerle – to transport a 430-tonne coil across the south of France.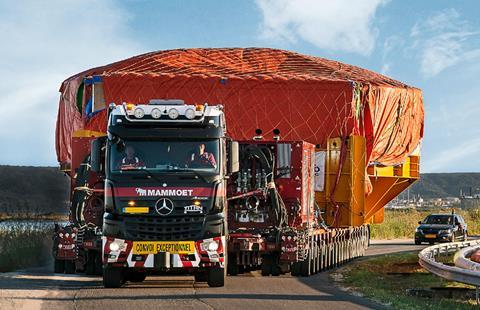 The TPA transport system, designed to improve transport efficiency and lower the carbon footprint of major projects, was first launched in 2018, as HLPFI reported here.
On behalf of Daher Technologies, Mammoet deployed the TPA system to transport the reactor components 100 km from the port of Marseille to the International Thermonuclear Experimental Reactor (ITER) project site in the south of France.
Scheuerle – a subsidiary of the TII Group – said that with the use of the TPA, only two tractor units were required for the move, rather than six. Additionally, the time required to complete the transport was halved.
The manufacturer also explained that the ballast requirements of conventional tractors are eliminated with the TPA, and due to the reduced weight of the vehicles and cargo, less fuel is required.
Mammoet will also transport a 600-tonne vacuum vessel for the ITER project.