Germany-based Universal Transport has ordered 62 THP/SL-S (285) axle lines from Goldhofer.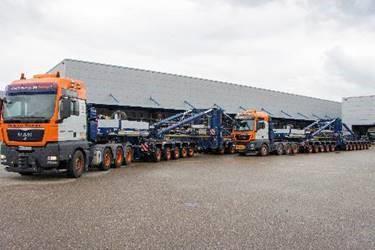 The units will replace Universal Transport's current Goldhofer THPH/ET modules.They will be used for the transportation of outsize, heavy and long components for wind power projects.
Frank Rakowski, fleet manager at Universal Transport said that the vehicles provide high payloads, lower deadweight, 1.5 m of axle spacing instead of 1.4 m, and greater later stability.
"What's more, with a suspension stroke of 600 mm we can now raise the maximum loading height to 1,600 mm above the axles – an enormous advantage in terms of extra height for negotiating obstacles," he added.
Universal Transport said that the order was placed in anticipation of stricter transport regulation requirements coming into effect in Germany.
Markus Frost, managing director of Universal Transport, added: "With this individually tailored modular solution, we can offer fast, reliable and economical delivery of very long and heavy loads on challenging routes to the various construction sites."