Germany-based Wasel has taken delivery of a Liebherr LTM 1650-8.1 mobile crane.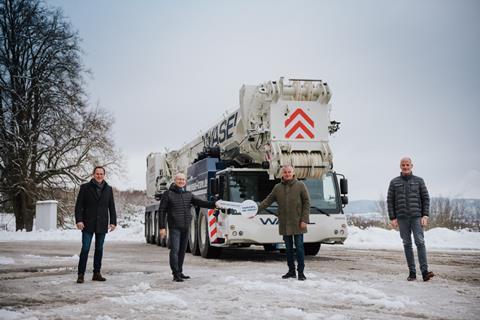 The LTM 1650-8.1 has maximum lifting capacity of 700 tonnes. Thomas Wasel, who runs the business with his brother Matthias Wasel, explained that the company decided to invest in the LTM 1650-8.1 "because our 500-tonne crane is now often reaching the limits of its capacity".
Wasel continued: "We often need more lifting capacity, particularly for unloading machine components off ships at ports. The new crane also delivers some major benefits for erecting large construction cranes with luffing jibs."
Wasel added that the eight-axle unit is relatively easy to handle for a crane of its size. "Being able to mount the complete outrigger box with just one hoist on site is a really good, practical solution," he said.
The company is also bolstering its fleet of crawler cranes and has placed an order for the recently launched LR 1700-1.0. The successor to the LR 1600/2 crawler crane, which has a lifting capacity of 600 tonnes, the LR 1700-1.0 boasts a maximum lifting capacity of 700 tonnes, as HLPFI reported here.
In the autumn of this year, Wasel will also take delivery of an LR 11000. This unit has a maximum lifting capacity of 1,000 tonnes.