India's Express Global Logistics (EXG) coordinated the delivery of a massive 2,652-tonne steel structure for the Mumbai Trans Harbour Link (MTHL) project.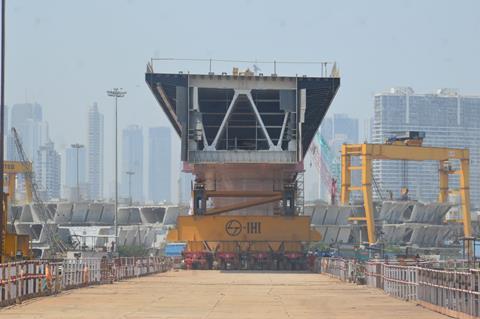 In cooperation with a local partner, EXG delivered the 180 m x 15 m x 7.4 m orthotropic steel deck (OSD) for the MTHL project – one of the world's longest sea bridges that will connect Mumbai to Navi Mumbai near Nhava Sheva.
The steel deck was transported to Sewri and moving it within the stipulated deadlines required meticulous planning by the EXG engineering team, which mapped the entire route to the inch.
The trailer convoy moving the OSD comprised 60 axles to the front, with 46 axles to the rear. EXG said that this was longest cargo moved on land in India to date.
EXG is a representative of the Worldwide Project Consortium (WWPC).