David Collett, outgoing president, and Fabio Belli, incoming president at ESTA, may have arrived in the heavy transport industry by very different routes, but they both have long-term experience in the sector – and a huge commitment to improving standards across Europe, writes Yvonne Mulder.
ESTA is the leading European association for the abnormal road transport and mobile crane rental industry. During March, it confirmed that Fabio Belli would succeed David Collett as president. David, who will remain an ESTA board member, held the role for the maximum time allowed under ESTA's constitution – three three-year terms.
Both have an impressive track record in the heavy transport business. Fabio started as a chemical engineer working in engineering and the construction of offshore platforms for oil and gas, while David is one of five sons who took over running the family transport business, Collett & Sons, based in the north of England.
"My grandfather was a farmer who, in 1928, started delivering his neighbour's milk as well as his own to the local dairy. When my father joined in the 60s they started doing other farm produce and then general haulage, and the business has grown ever since," said David.
As each of the five sons in the following generation – Richard, David, Lincoln, Mark and Michael – left school, they too joined the family business. "We did not have any sisters, but I am sure if we had, they would have been roped in as well."
Key purchase
Collett & Sons took the first real step into heavier transport with the purchase of a single axle low-loader during 1975 and has expanded sites and services ever since.
The project department was set up in 1995. "We saw a gap in the market for heavy transport as clients were starting to ask us to be able to do larger projects. We grew the business and customers recognised we were qualified to do the heavy and outsize work by our experience and reputation," he said.
In the late 90s, the company started a consultancy department based around the movement of wind turbines. "We did reports for wind farm developers and utility companies to see if the components could get to the site. We had the expertise – we had actually done the work so were able to talk about it first- hand."
The next step change occurred in 2008 when the company purchased a depot in Goole – the most inland port in the UK – and set up a marine department. It is now the centre for the heavy transport and heavy lifting operation.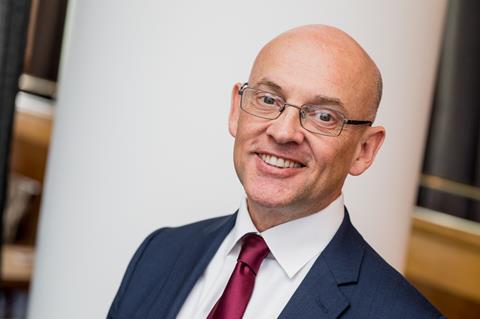 Big investment
In 2014, Collett made a major investment that allowed manufacturers in the UK market to make larger transformers. "We committed ourselves to a unique trailer for carrying transformers and generators – at the time the biggest girder bridge in Europe, able to carry 550 tonnes, so used particularly for power generation, not just wind."
The following year, the company opened a depot in Grangemouth, Scotland, and in 2017 an office was opened in Ireland.
So how did David get involved with ESTA? Initially it was via his company's membership of the UK's Road Haulage Association (RHA) and Heavy Transport Association (HTA).
"HTA sends delegates to ESTA where they could talk on a European-wide platform rather than just the UK. It gives us networking ability and we can compare different working conditions and practices/ regulations and see how problems are resolved.
"In 2006, I was selected to represent HTA in the transport section of ESTA (there is also a crane section) and just before I entered the first meeting I attended, Dick Nooteboom (of Nooteboom Trailers in the Netherlands) told me that the delegates would be electing a new president of the transport section that day. I said: 'That is exciting.' He said 'Yes, it's you.' "I knew nobody, did not know the agenda, did not know how the transport section worked or anything, but Dick said: 'Don't worry I'll do all the talking and you just agree.' And that is where it started."
Modernisation of ESTA
David paid tribute to the ESTA president at the time – Christian- Jacques Vernazza. "He brought ESTA into the 21st century. He united a lot of European operators and also brought in the crane and trailer manufacturers by encouraging them to join. This increased the number of stakeholders in ESTA by adding the supply chain to our industry. "If we are going to effect change, we need the companies supplying and operating the cranes to talk to the manufacturers. He opened the way for that to happen."
David took over as ESTA president in 2013 and has seen it evolve into a more professional organisation with growing membership. "Our director, Ton Klijn, has been instrumental in growing ESTA and continues to work very hard to bring in more members."
Notable developments during David's presidency include the publication of the first best practice guide on the use of SPMTs, part of an attempt to improve safety standards and training in this area.
He was also a driving force behind another best practice guide on the transport and installation of onshore wind turbines – a fast-growing sector that was seeing too many accidents and near misses. He persuaded the turbine manufacturers to support the work and both best practice guides were published free on the ESTA website.
But perhaps the biggest achievement during his presidency was the launch of the European Crane Operators Licence (ECOL), by far the most ambitious project ever undertaken by ESTA. ECOL's aim is to raise standards among crane operators and allow ECOL- qualified operators to move from country to country without the need to re-train. It is up and running and is now slowly becoming established across Europe.
David believes that ESTA's decision to join the International Road Transport Union (IRU) has helped it in its aims to get transport regulations changed to achieve consistent legislation across Europe.
"When the European Commission wanted to know anything about transport, they would ask the IRU. The IRU did not really have any intelligence on abnormal road transport – so we are the niche intelligence for them.
"We are a small but important part of the industry. We do have some direct connections with the EU as well, but we get more clout lobbying theEUaspartofIRU–theyarea big fish in a big pond."
For Fabio, ceo of Italian-based Fagioli, now is the right time to commit to ESTA. "We have been asked to be on the board before, but the timing was not right at that moment. But when you mature and get acquainted with new perspectives you do realise how important mutual cooperation with your competitors could be."
He sees two main priorities. "We need to follow the path made by David and Ton Klijn to harmonise all the rules and practices between various countries across Europe, and we need to make this industry sustainable in terms of attracting new people and fellow professionals.
"In Europe, cross-border transfers are difficult when you have completely different regulations – you cannot have that. It is 2022, we have to be a bit more homogeneous, especially so that these common standards are reflected in the quality of the services."
Fabio trained as a chemical engineer and started his career with Belleli in 1989 in the company's business sector, which undertook the engineering and construction of oil and gas, petrochemical and power facilities. His responsibilities included contract engineering, bidding strategy and sales area management.
After brief spells at Belleli Offshore and OCME, Fabio joined Fagioli in 2001 where he has been ceo since 2009.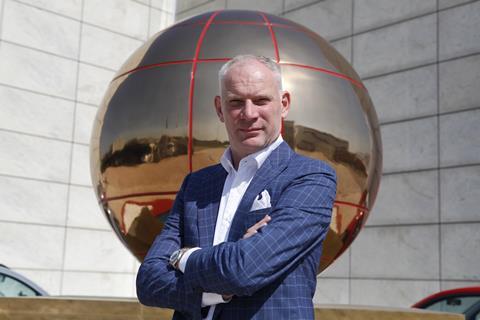 ESTA's reorganisation
"When I arrived, the company was a kaleidoscope of companies. It was not really into heavy lifting and transport – which was more my background. We started to move into lifting and now it is 75 percent of the business." Fabio believes that the lifting and movement of heavy pieces is something that people find interesting. "We do very complex things. You see people stop in the street and stare at these amazing sights. We need to use this interest to attract talent into the industry.
"We have to show that our sector is modern and uses a lot of computers for modelling, planning, engineering and so on, but that we also need people who want to be hands- on, to work onsite with all this exciting equipment."
He said ESTA is about common values and improving safety across the industry. "We need to have the regulations reflected in finding solutions where people are safe. We cannot adopt different standard rules when it comes to the safety of employees. We need to aim for the best system everywhere for our employees."
Harmonisation is also important in terms of regulations related to climate change and carbon emissions. "In Italy, there will be a new regulation that we have to issue an environmental social governance (ESG) balance sheet with a plan showing how we will reduce emissions every year. I would like to use same idea in ESTA – we all know it is important that we reduce CO2."
Fabio concluded: "I want to continue the work David did and expand our values on the European continent. The main players in this industry are in Europe and so other countries come to us. We need to set the standards. It seems to me that there was a lot of cooperation at all levels during Covid-19 and we want to see the same thing when we talk about important issues like safety."
This article has been taken from HLPFI's May/June 2022 edition.