Volatility in global energy markets over the last two years is showing few signs of easing. As a result, much of the scale, timing and location of future investment in upstream oil and gas projects is currently shrouded in uncertainty, reports Phil Hastings.
Short-term factors affecting upstream oil and gas investments include fears of economic recession in many major markets and supply chain disruptions, with a resulting imminent drop in demand for oil. That concern was further heightened when OPEC members and other major oil producers recently agreed a plan to cut their output in a bid to stimulate a recovery in oil prices.
Concurrently, the war in Ukraine and the related reduction in Russian gas supplies to Europe has kept energy security high on the agenda of many countries. In some cases, that issue is prompting governments to look at sanctioning new investment in domestic oil and gas production alongside the development of renewable energy. The UK government, for example, is talking about allowing new North Sea operations.
Future investment
Longer term, the global upstream oil and gas industry has to assess when and how rapidly demand for its products will fall, as the worldwide development of renewable energies continues to accelerate, and plan its future investment in new exploration/ production projects accordingly.
Colin Hindley, global sector head international energy companies for DHL Industrial Projects, described the complexity of the current influences on upstream oil and gas industry investment. "High commodity prices and growing concerns over energy security are creating urgency in many countries when it comes to diversifying supply and accelerating energy transition," he commented.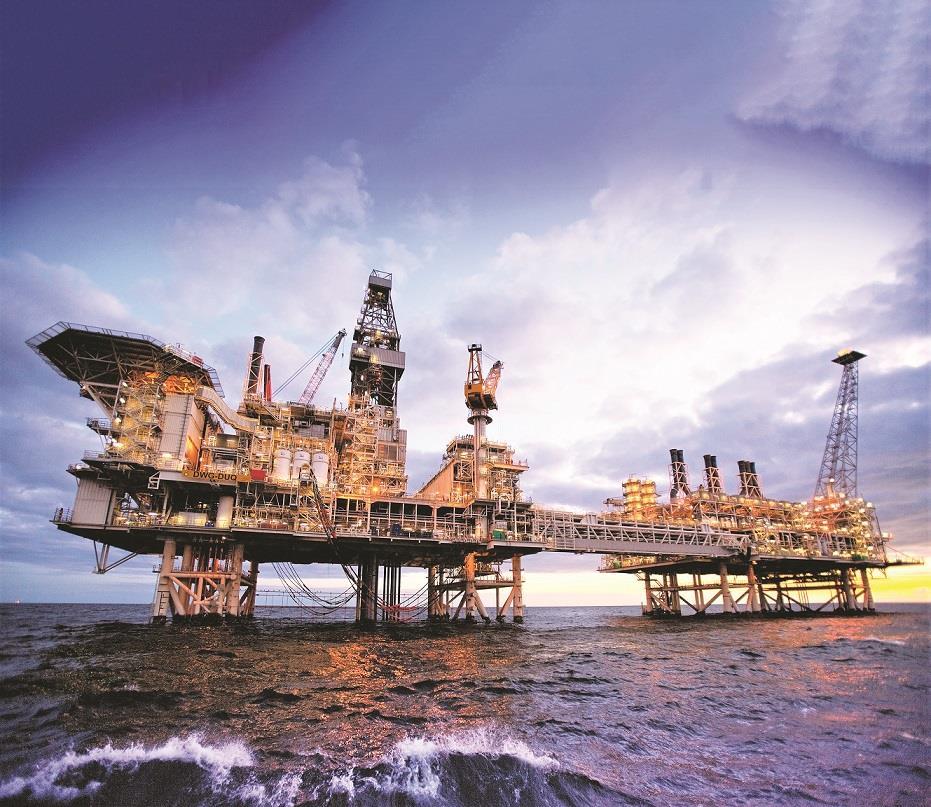 bp offshore upstream oil and gas operation.
"In the upstream oil and gas market, years of under-investment and the rapid recovery in demand after covid, plus geopolitical developments in Ukraine, are adding to the dilemma in terms of where to invest and balance short-term need and long-term development."
Hindley said higher oil prices and significant current positive upstream cash flows are allowing the energy industry to take a multiple-action approach in the short term – increasing pay-outs to shareholders; reinvesting in upstream developments, with a greater percentage going to resupply and extension projects rather than new fields; and growing low-carbon technologies and diversifying products.
IEA forecasts
The International Energy Agency's (IEA) most recent annual World Energy Investment report suggests that total upstream oil and gas sector investment in 2022 is likely be about 10 percent up on the USD380 billion figure for 2021, "led by the US majors, independents and national oil companies (NOC) in the Middle East", although it added that much of that increase is attributable to higher costs.
"The focus [of the 2022 investment] in many cases has been on short-cycle investments that bring new supply to market as quickly as possible, for example via tie-backs to existing projects and increased infill drilling," reported the IEA.
Spending levels
However, it continued, spending by majors and independents is still well below average levels seen in the last decade. "Investment in new fields is back on a rising trend, but most upstream capital spending is still on existing fields and shale plays," it added.
Hindley commented: "The traditional oil and gas industry has proved resilient in the short term, providing ample profits to support diversifications strategies into 2023 and beyond. While investment is required in the upstream sector, this is being focused more on the development of existing fields."
However, while DHL Industrial Projects is continuing to support international energy companies in established production centres like the US Gulf and Middle East, it is also developing opportunities in Africa, including significant finds and potential new developments, for example in Namibia and across that continent's west coast.
Jeff Smith, global head of supply chain for freight forwarder deugro – whose involvement in the upstream sector includes project cargo and supply chain management, lead logistics and complete rig moves – shared insight into the short-term factors currently influencing activities: "The pandemic and the Russia/Ukraine war will have an impact on oil and gas operations globally but it is not likely they will fully unravel the industry… the continuing reliance of many countries on oil and gas means that while the industry has seen a slowdown, it has not been permanently disrupted."
Smith also noted that demand for oil and gas was being outstripped by supply even before recent events. Specifically, there is expected to be a 2 percent imbalance in 2022, representing approximately 2 million barrels of oil per day. "So, it can be argued that [imbalance] situation was coming regardless of the latest circumstances."
The current global oil supply/demand imbalance, coupled with longer-term uncertainty about demand, may explain why there has not been any widespread renewed international investment in unconventional gas exploration/production, specifically on-land shale gas/hydraulic fracturing (fracking) operations.
George Abreu, senior vice president oil and gas for French global logistics group Geodis, said countries are generally working on finding their own individual "workable short-term solutions" to problems over oil and gas supplies. Geodis itself provides logistics services to the upstream sector, with a focus on the Asia-Pacific, Middle East and Africa regions.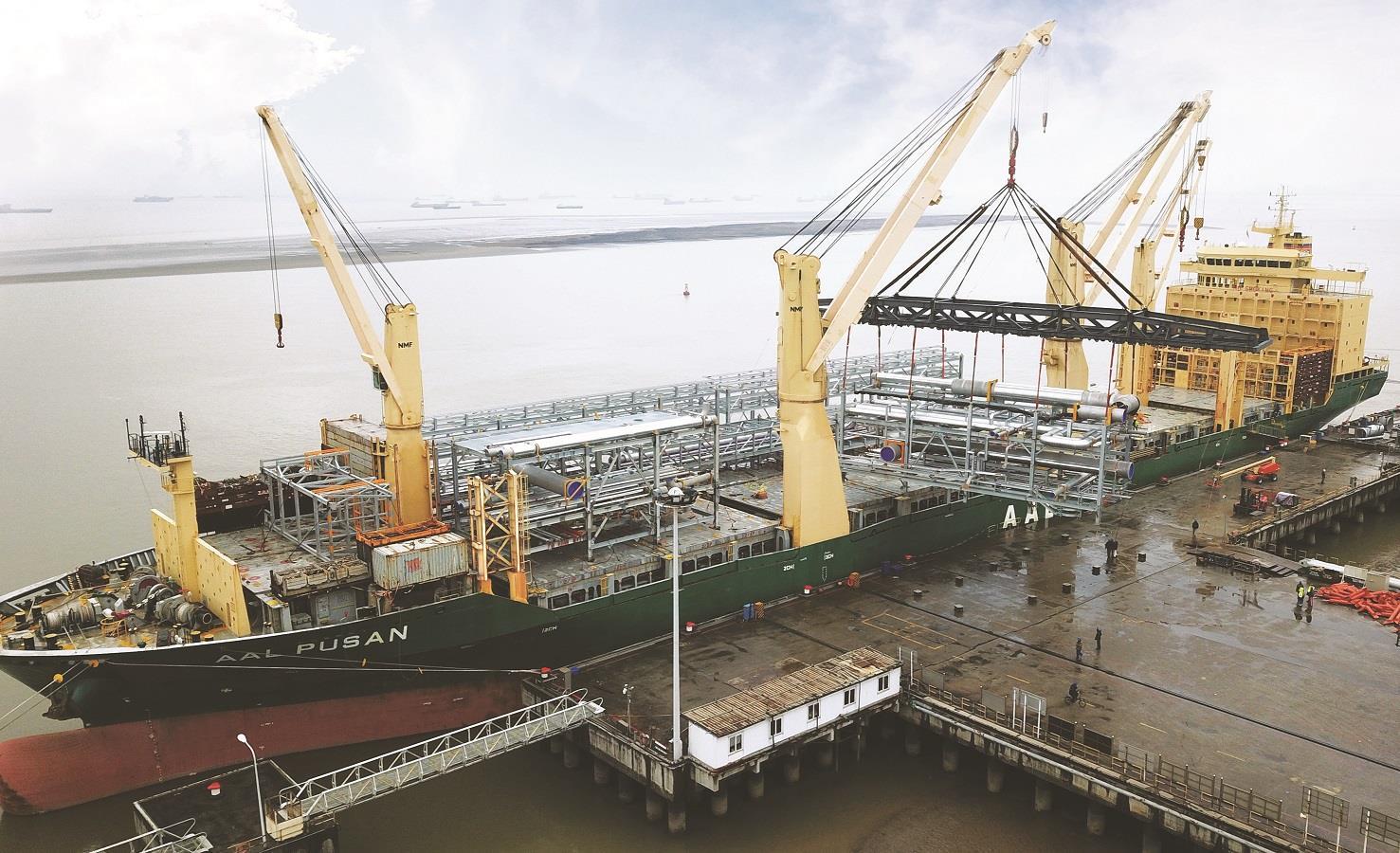 AAL transporting upstream oil and gas industry modules
"Some are allowing enhanced drilling while others are only supporting work on existing working wells, using intervention techniques to increase production. While further drilling will be required, there are pressures to limit new offshore drilling in many parts of the world due to social and environmental influences," he stated.
Unconventional exploration
Commenting specifically on the issue of renewed investment in unconventional gas exploration/production, particularly fracking operations, he said the picture varies from country to country. "If a country allows unconventional drilling, that option does provide a relatively short-term solution to meeting energy needs, so under those circumstances such activities are increasing. The USA, for example, currently has a very high level of unconventional drilling again, which is making a significant contribution to energy growth," said Abreu.
"However, if a country's policy is not to allow unconventional drilling, then obviously no such investment is going to be forthcoming. Then there are some countries, such as Colombia which has large resources that are conducive to unconventional drilling, which are still evaluating if fracking will be allowed due to environmental concerns."
Christophe Grammare, managing director of Singapore-headquartered global multipurpose carrier AAL Shipping, also played down the possibility of widespread renewed investment in unconventional gas exploration/production. AAL provides ocean freight transport for upstream oil and gas project components including line pipes, manifolds, mats, templates, umbilical reels, production platform piles and modules.
"So far we have not really seen any significant new investment in those sort of operations other than the usual field expansions and upgrades," he commented. "Looking ahead, the increasing pressure on governments to move away from fossil fuels is likely to mean a reduction in such investment, with the impact of the public outcry over fracking being a good example."
Colin Charnock, group ceo for UK-headquartered Trans Global Projects Group (TGP), voiced similar views, confirming that due to the current energy crisis the fracking debate is being renewed in many countries, but he also suggested that such new investment may be limited.
"Unconventional gas production has continued productively in many parts of the world for quite some time and with new techniques and technologies expanding possibilities, some experts think fracking has the potential to change the dynamics of world energy," he observed.
"…with new techniques and technologies expanding possibilities, some experts think fracking has the potential to change the dynamics of world energy." – Colin Charnock, TGP.
However, in sensitive areas close to populations, fracking activity is likely to continue to face opposition. Overall, he concluded: "For now, we anticipate most project logistics opportunities will be in the current major markets."
Bullish outlook
Other logistics industry executives, though, are more bullish about prospects for further investment in unconventional gas exploration/production. One of them is Steve Groschup, global sector head exploration and production for DHL Industrial Projects, based in Houston.
"I would expect to see not only renewed but increased investment in onshore unconventionals, mostly in the USA. The main drivers for that will be the feedstock deficit sparked by the war in the Ukraine and rising prices," he stated.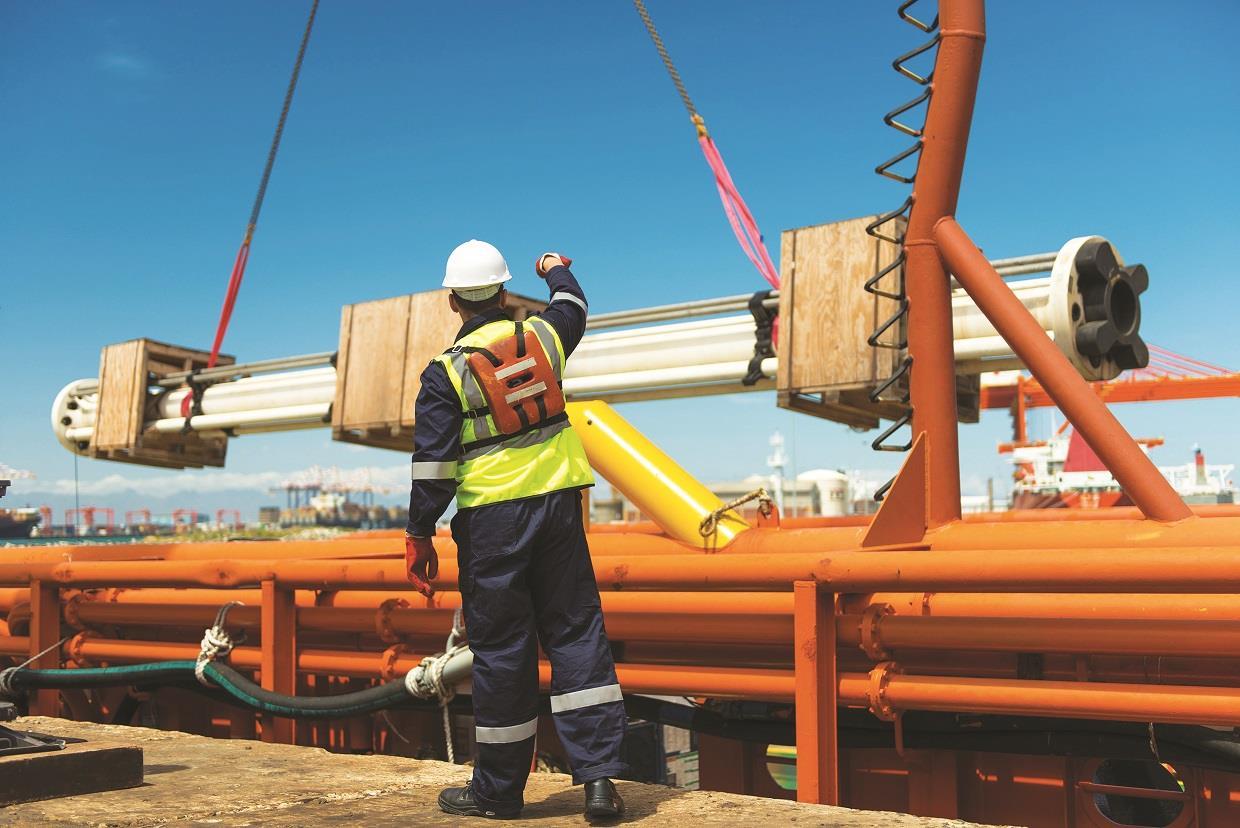 GAC oil and gas project cargo
"The areas of upstream activity where the project logistics industry will capitalise will include drilling rig movements, tubulars and large modules, while midstream they will include vessels for processing facilities."
Logistics industry views also vary on the longer-term outlook for the overall global upstream oil and gas industry and related volumes of heavy lift and project forwarding work.
The majority go along with the assessment of Erland Ebbersten, vice president − marine and energy for GAC Group, a Dubai-headquartered global provider of integrated shipping, logistics and marine services with over 60 years of experience servicing the oil and gas market, and more recently the renewable energy sector.
"GAC believes that while a significantly greater proportion of energy will come from renewables by 2050, the volume of oil and gas required to meet growing demand for energy will remain at similar levels," he said. "To retain production – which will not increase in the same way as it did in the past – we will still need substantial investment to replenish what we are taking out of the ground."
In the long term, added Ebbersten, GAC expects to see a mix of developments across new oil and gas fields, the expansion and modernisation of existing fields, and the closure and decommissioning of others. "Each one will continue to need ongoing project logistics support."
Well depletion
Abreu also believes the global need for oil and gas is going to continue at a high level for decades to come "and the truth is that existing production wells cannot meet all that requirement. In fact, the current pace of global well depletion means there will be a strong need for further oil and gas exploration over the next several decades."
Similarly, TGP's Charnock argued that while many countries are working to replace oil and gas with renewable energies, "we anticipate it will still be quite some time before oil and gas production declines appreciably".
"The total amount of renewable energy that is available is growing but the increase in that energy is still lower than the increase in global energy demand overall. A total transition from fossil fuels will come one day but for now, renewable energy is not keeping pace with rising energy requirements – so fossil fuel demand is still growing," he concluded.
However, AAL's Grammare suggested that the worldwide transition towards more renewable energy is likely to result in reduced investment in exploration and other large-scale upstream expansion projects.
"Over the next five years there will still be some major expansion projects under construction. Thereafter, the investment is likely to be reduced and focused on upgrades to extend the lifetime of existing oil and gas fields," he commented.
This article has been taken from HLPFI's Jan/Feb 2023 edition, read more here.