This time last year, confidence in Spain's wind energy sector was high and the outlook was bullish in spite of long-running political uncertainty. With a coalition government now in power, the country is among those worst hit by the Covid-19 pandemic – but projects are continuing, writes Megan Ramsay.
Spain is currently governed by a joint administration comprising the Spanish Socialist Workers' party (PSOE) and the anti-austerity Unidas Podemos. On securing the coalition in January, Prime Minister Pedro Sánchez said: "Today is the dawn of a time of moderation, progress and hope."
High on the government's agenda is the commitment to increase the share of renewables in the country's energy mix. Spain has outlined plans to phase-out coal entirely by 2030 (as have Denmark, Finland, the Netherlands and Portugal; other EU countries have set different timelines).
According to Red Eléctrica de España (which operates the Spanish electricity system), renewables grew by 13.6 percent in 2019. This marked a turning point in the transition of the peninsular electricity system, as the integration of 6,528 MW of new renewable generation meant that for the first time green energy comprised the majority of power generation capacity in the country – 52 percent.
Last year saw the lowest share of coal-fired technology since records began
at Red Eléctrica: just 4.3 percent of the total generation mix, compared with 14.1 percent in 2018.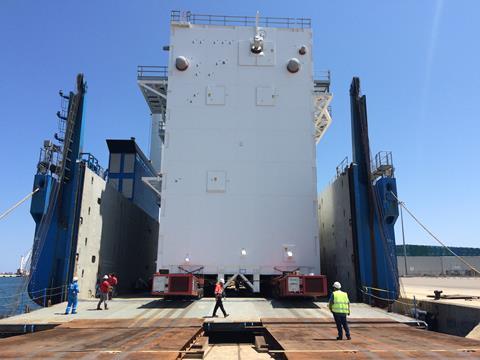 Wind dominates
Wind power became the top source of energy with a total capacity of 25,255 MW, closely followed by combined-cycle plants (previously the main source). Hydroelectric power now contributes 17,083 MW. Solar photovoltaic energy almost doubled, increasing by 93.2 percent (4,159 MW) compared with the previous year.
Among the energy companies contributing to the greener mix is Iberdrola, which is investing EUR34 billion (USD38.61 billion) over a four-year period from 2018 to 2022.
It intends to install 3,000 additional megawatts by 2022. By 2030, it expects to have another 10,000 MW in position.
The petrochemicals, oil and gas industries have also driven project cargo activity at Spanish ports such as Tarragona. Indeed, southern Europe's largest chemicals cluster is
located at the city, said Genoveva Climent Dewit, commercial director and head of business development at the port. That cluster includes companies such as BASF, Dow Chemical, Repsol, Asesa and Cepsa.
Dewit observed: "[Steel construction company] Schwartz Hautmont, which is located right here at the port, completed 51 boiler systems for a refinery in Russia, 14 boiler systems for an olefin plant in Hungary and various equipment for subsea oilfields in the North Sea and Gulf of Mexico, moving more than 37,000 tonnes last year."
Plus, for a project started prior to 2019, German multinational Linde Group built and shipped two cold air separator boxes (one for ethanol and one for methanol) for an LNG plant in Texas. Their dimensions were similar to those of an eight-storey building and each box weighed 1,340 ton nes. Linde is now constructing two more cold boxes at Tarragona.
Other news at the gateway is the development of an additional 920,000 sq m for logistics activities. This translates to an increase of just over 20 percent in the overall area of the port, and is expected to result in a 15 percent rise in traffic. The space is flexible, with plots from 4,370 sq m available with a minimum building area of 2,289 sq m, to more than 100,000 sq m.
Last year many significant international projects were on the table, but the big EPCs postponed them because of the economic situation.

– Pablo Higueras, Coordinadora
Pablo Higueras, executive director at Madrid-headquartered transport engineering company Coordinadora, said that many of the projects planned for 2019 were carried over into 2020 – but things are, once again, on hold. "Last year many significant international projects were on the table, but the big EPCs postponed them because of the economic situation," he said.
Transport blocked
This year got off to an optimistic start but the measures adopted against Covid-19 have paralysed the movement of goods and traffic.
"In Spain, the granting of permits has slowed down so some transport is blocked. Another difficu lty is that when cargo has to cross borders, truck drivers may have to go into quarantine for 15 days, so cargo gets blocked at the borders," said Higueras.
"It can also be hard to send people out to receive cargo at the destination.We recently sent some people out to Abu Dhabi. It was difficult to find flights, and of course you have to justify those flights. And the measures against the virus are not alw ays the same as they are here in Spain."
It is perhaps the changes to normal working practices that are having the greatest impact on the logistics sector, with reduced staff levels and budget freezes right through the supply chain, from manufacturer to consignee, resulting in a dramatic fall in volumes. Some verticals are affected more severely than others – automotives is a case in point, while pharmaceuticals and foodstuffs continue to move.
In the renewables sector, Siemens Gamesa temporarily closed several of its factories during March – including production sites for blades, nacelles and gearboxes – in the country after employees tested positive for the virus. The factories in Lerma, Burgos, San Fernando de Henares, Somozas, Ágreda, Aoiz, Asteasu and Valencia reopened in April.
Santiago Pérez-Torres Fernández, general manager at Pérez Torres Marítima (PTM), said that the company continues to invest in its trucking fleet and terminal facilities, but the sudden public health crisis means this year is looking different to what was originally forecast.
"2020 is a very different year than expected. Companies within the logistics sector are used to rapid market changes due to factory closures, regulatory changes, and so on, but it is true that this pandemic situation that we are all suffering is certainly exceeding anything expected. Many of our strategic clients had been forced to temporarily close their mills. Fortunately, at this moment, all those mills are back in production."
He added that PTM Group, like everyone else, has been affected by the Covid-19 outbreak "due to the fact that if our clients are affected, we are also affected."
Still, he added: "Thanks to the diversification strategy which our group has carefully followed over the years, I can humbly say that we are able to surf this crisis – but of course we are hoping to leave this pandemic situation behind sooner rather than later."
PTM made some significant investments over the past 12 months including: a new liquid terminal dedicated to biofuels; three heavy lift cranes; plus 55 new trucks including LNG-powered units.
It also boosted its heavy handling capabilities with the addition of Mercedes Actros 3363 truck-heads with a pulling capacity of 180 tonnes each, and corresponding extendable platforms that can carry wind turbine blades up to 80 m in length.
Considering the impacts of Covid-19, port of Tarragona's Dewit noted that project cargo "is not a standardisable operation; it always requires prior design and planning to minimise wait times for the end client.
"In this sense, the effects of Covid-19 have not been perceptible as far as planning is concerned, and it is too early to evaluate the possible effects on project cargo," she said.
"At present, traffic and activity at the port are running relatively normally, with contingency plans in place to ensure essential port services continue to function during the pandemic."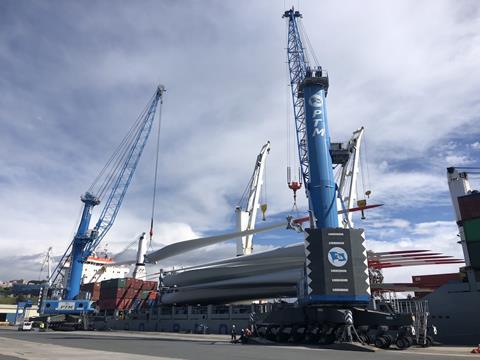 Power predictions
With regard to renewable energy in particular, Watson Farley & Williams (WFW), the international law firm that advised lenders on financing, noted that demand for power is highly unlikely to fall dramatically during the pandemic. Power producers are working to ensure a stable supply of electricity (while taking steps to keep their employees safe, naturally).
Some projects might be subject to revised construction schedules, potential delays in financing, perhaps even legal issues.
Higueras remarked: "The current situation has been a major setback for the heavy lift and project cargo sector; it has sl owed down decision-making, closed borders and workshops, and delayed the handling of many shipments for projects that were nearing completion."
Some projects will have to move ahead, though, as they have a set delivery deadline and penalties for late fulfilment. Those projects that are already late are likely to be pushed back further as necessary.
WFW summarised: "The relatively positive outlook on demand for power, coupled with European governments' ongoing environmental commitments and the reduced reliance by European renewables on government subsidies, suggests that the European renewables sector remains underpinned by fundamentally positive long-term prospects, even if coronavirus presents immediate challenges to certain projects."
Some companies are adopting a positive and proactive approach. Iberdrola, for instance, is set to increase investment "as soon as possible to contribute to economic activity and promote employment", according to group chairman Ignacio Galán.
This means that at least half of the 9,000 MW of new capacity that it currently has under construction around the world will be commissioned this year.
Orders placed
Speaking at Iberdrola's AGM in April, Galán said: "In the last few days we have brought forward over EUR3.8 billion
(USD4.1 billion) in orders to thousands of suppliers, with purchases in progress for delivery by 2023 standing at more than EUR20 billion (USD21.7 billion).
"We will move forward with the total conviction that we will come through this situation and that this new infrastructure will be absolutely necessary," he added.
We should not have false optimism – but, historically, there has always been a great deal of work and hope following a crisis.

– Jimmy Jaber Bringas, Sparber Transport
In Bilbao, Sparber Transport has adjusted its expectations for 2020, according to Jimmy Jaber Bringas, managing director. "We had forecast a volume at least similar to 2019, but we are aware that we must move our expectations for the moment to the second half of 2020, when we hope the industry will start rising from the ashes," he said.
Higueras agreed that 2020 will be something of a half year, with plenty of challenges. In his view: "The problems will arise when the situation is final ly resolved and there will be far higher demand for transport than usual. According to the law of supply and demand, this will cause prices to rise and deliveries will be delayed."
The management of human resources is another potential minefield, given the temporary suspensions and layoffs that have occurred during the pandemic.
"We also expect liquidity problems in the sector," Higueras said. "Big companies here in Spain are running very long payment times, which means forwarders will not be paid for any project until at least the end of the year.
"It will be a race to end the year, with all companies in the sector doing everything we can to fulfil our promises and bounce back financially at the same time."
Of course, Bringas pointed out: "We should not have false optimism – but, historically, there has always been a great deal of work and hope following a crisis. We will need to know how to take advantage of the opportunities that will be presented to us."
New avenues of business
Salvador Corrales, sales director/project division at forwarder Altius, is looking to the future with ambition. The company wants to strengthen its activity in areas where price is not always the only consideration – particularly in Latin America. It is also aiming to maintain its presence in the Middle East and Asia, and develop new avenues of business elsewhere.
For now, Corrales said: "We are in line with our stated objectives, with some deviations in place owing to the current circumstances. Projects are continuing, although the pace and deadlines have been somewhat affected and some clients have postponed awarding contracts, given the uncertainty.
"It is difficult to predict how things will develop over the coming months but we ought to be moderately optimistic about the recovery. Our clients have projects whose cargo comes from multiple origins, and only a small percentage of that cargo originates in Spain."
At Coordinadora, Higueras remains sanguine on the company's prospects: "We are working every day and winning contracts. Some of our clients are even doing more business than they were before, winning projects and building relationships (remotely) and planning for a return to normal business.
"What is difficult to predict is what happens afterwards: we do not know if there will be another wave of the pandemic, which could mean we would be confined again. This is playing on everyone's minds.
"Also we only have half a year to do the numbers for a whole year – fortunately, we have a wide client base, so we are in a good position."
This article has been taken from the May/June 2020 edition of HLPFI.