Captain Wout van der Zwan, a director at BigLift and regarded by many as one of the most influential men in heavy lift shipping, is set to retire next year. Justin Archard caught up with him to discuss a career spent at the forefront of heavy lift evolution.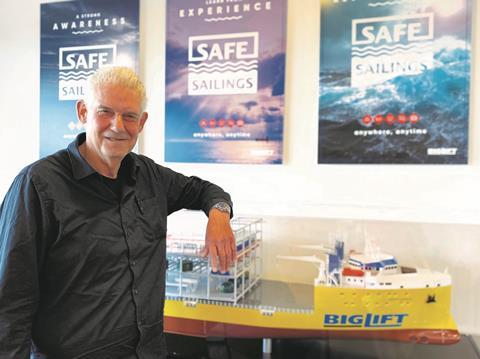 In Van Morrison's classic 1970 song 'Into the Mystic', the Irish crooner invites the listener to float away in search of eternity. "Hark, now hear the sailor's cry. Smell the sea and feel the sky. Let your soul and spirit fly, into the mystic."
On more occasions than I can remember, seafarers have said to me that they are happiest when they are out of sight of land; when there is nothing but the deep ocean, the limitless sky and their elemental interaction. Some people are simply drawn to the sea. They feel an inexorable pull towards it, and it is irresistible. Arguably Captain Wout van der Zwan is one of those people.
"You can remember things from maybe four years old – not before that," he says, "and my first memories are of being at sea with my father. There was not the rotation system for seafarers as there is now, so he was at sea most of the year. Before I was old enough to go to school my mother and me would join him on the ship. When I finally had to go to school, we would join him during the holidays, and I loved it."
Wout is a lifer. A man that has followed his passion for the sea in a career spanning more than five decades, 47 years of them at the spearhead of heavy lift shipping. Today you will find Wout at BigLift Shipping, the Amsterdam-based heavy lift carrier owned by the Spliethoff Group. As global business development director his decades of contacts and experience help to steer the company's technical project development.
I can vividly recall meeting Wout for the first time: May 1, 2000. I can be sure of that because that was the day I started my heavy lift career as a chartering manager at Kahn Scheepvaart, the commercial agent of Jumbo Shipping in Rotterdam.
Wout was the technical director. He had come ashore a few years earlier at the behest of the owner and he was – to be frank – an intimidating presence. He had the gritty air of a captain and at the time he already had 23 years of practical hands-on experience in heavy lift shipping. He was in control and at ease in his environment. We could not have been further apart.
So, when I asked Wout recently whether he would be willing to sit down with me to talk about his life and career it was for two reasons. The first is that there are very few in the heavy lift shipping world that I regard to have been as influential. The second is that 47 years after signing on to his first heavy lift ship, Fairload, Wout aims to retire in the second half of 2024.
We caught up with each other in The Hague recently where over a fish supper in the warm and convivial surroundings of a traditional Dutch eatery I finally had the chance to ask him some of the questions that I had always wanted to.
You need at least four ships to be a player, but we did not even have enough money for one. – Captain Wout van der Zwan
Maritime destiny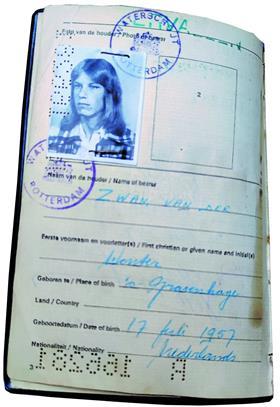 Born in 1957 into a seafaring family based in the small Dutch fishing village of Scheveningen, Wout was destined for a life on the seas. His father had moved away from the traditional fishing life that earlier generations of his family had been supported by, a move that eventually saw his father rise to captain on the shortsea trades. Aged eight, the family moved to Rhoon on the south side of Rotterdam.
Like many young boys who always seem to know what they want to do with their life, Wout did not like school "but I did not have to try hard," he says. "It came easily to me." He could not wait to leave and start his life at sea. That chance came when he was 15. Pushing back against his parents who would not sign his seaman's book unless he committed to continued education, he joined a North Sea fishing boat until his parents relented.
Somewhat reluctantly he agreed with his father to take his deepsea diploma qualifications at nautical college rather than the easier shortsea diploma qualifications that would have forever locked him into the coaster trades. When Wout took command of his first ship at the age of 25, he admits "my father was not so crazy in the end, and he was very proud".
In 1977, aged 20, Wout signed onto Fairload – one of Jumbo's early ships. An old friend from nautical college had encouraged him. "The idea of heavy lift thrilled me… it looked exciting, so I applied." By the age of 25 he was captain. "I remember getting my master's diploma. I went home to celebrate. I called the office to tell them, and they said 'we know! Better be in the office early tomorrow because your flight is at lunchtime.'
"I signed on Mirabella as captain in Porto Marghera. I was not just the youngest captain in the Jumbo fleet, I was also the youngest person onboard the ship." I asked whether he thought he was ready for this big step forward? "Professionally yes. But in dealing with people, definitely not."
Market leader
A 30-year stretch is a long time to spend with any company but in 2006, Wout and Jumbo parted ways. Tensions had been growing about the future direction and development of the company. It had grown into a market leader and had recently launched the transformational J-1600 series of vessels.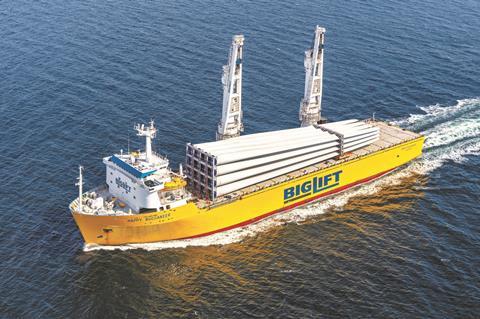 "We had an R&D department and we had been noticing that land-based cranes were getting higher lift capacities and refineries were installing bigger crackers".
Manufacturers were rolling thicker steel and the size and weights of columns were growing. So, we asked ourselves whether we could just scale up one of the vessel types we were already operating and install bigger cranes on it. Nothing complicated. That is what we did, and it changed everything."
Jumbo had also taken its first steps into the offshore subsea installation world and was busy fitting dynamic positioning systems, deepwater winches and all manner of tools and toys to enable wider prospective participation. Jumbo Offshore was established under Wout's leadership together with another of heavy lift shipping's revolutionaries, Richard Krabbendam.
Looking back on his time at sea I wondered whether a seaman's life is still something he would recommend to young people of today? I asked the question with real curiosity because to me going to sea was always partly about the adventure. Exploring the world and enjoying – if only fleetingly whatever there was to be enjoyed. Today, in a post-9/11 world with all the security measures that now exist, few port calls offer any time ashore.
I think the heavy lift business is going to boom for the next 30 years or more and a lot of that will be about renewables. – Captain Wout van der Zwan
Travel excitement
"It is still exciting,"' he says with a wistful smile. "Approaching the Panama Canal, the Magellan Straits, or the Fjords – it is exciting. Maybe not the same way it once was, but you can still sit out on the bridge wing at night in the deep ocean and look up at the stars and you get a lot of free time nowadays. Maybe you are onboard for three-four months but then you have two months off. This is how the industry has compensated."
Following his departure from Jumbo in mid 2006, via his circle of friends and professional contacts Wout had become aware of a newbuilding project that hoped to build a series of geared dock vessels. They had the basic design and the ambition but were looking for a co-investor and heavy lift experience. Rejecting an offer of employment with the project team to try to help advance the project, he instead introduced the opportunity to Frans van Seumeren, who had recently sold down a large part of his holdings in Mammoet and was looking for a new project to invest in. "We had a meeting with the project team and within a few hours we agreed to start RollDock." Wout would be the ceo, but a harsh reality was ahead.
The market was booming and money alone was not enough to secure a newbuilding yard slot. Everywhere was full until Larsen & Toubro of India – a company skilled in manufacturing topsides modules for the offshore sector and large columns and reactors for the petrochemical world – said that it wanted to move into shipbuilding. "We had our doubts, of course, but the choice was either build at L&T at a very nice price, or not at all."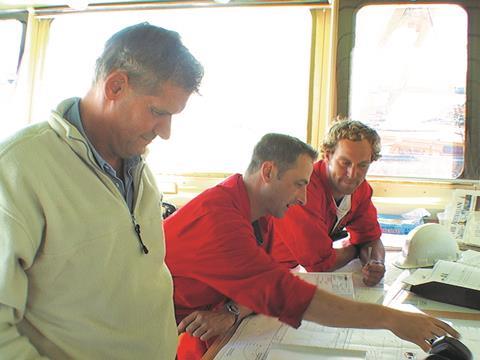 Major delays
Anticipating delays and installing a big team of building support, no one could have forecast how major those delays would become. "We had booked 11 months of employment for our first vessel, RollDock Sun, with Foster Wheeler for the Pluto Project in Australia and we had to go to London with our tail between our legs and say 'sorry guys but we cannot perform, the ship is not ready'."
By the time the ship was delivered – the first in a series of six that were ordered, the market had collapsed. "We were fortunate to have booked a series of shipments of furnaces from Sattahip to Singapore and shipments of submarines for the Indian Navy, so we had a successful first year in the end."
The Australian Gorgon project was the turning point. The global financial crisis was crushing companies and economies all over the world, but Australia was booming as demand for raw materials and commodities reached almost hysterical levels as governments funded infrastructure projects aimed at shoring up plunging economies. RollDock Sun was contracted for 4.5 years of continuous employment in the Gorgon project, which stabilised the company. "It was our lifeline," he says.
With its distinctive pastel blue livery RollDock has established itself as one of heavy lift shipping's more niche service providers. Building a fleet and a company through some of the worst market conditions was testing for everyone. "I am not a financially educated guy. I am not a financial person or a bookkeeper or a banker but we had someone from ABN Amro bank as the chief financial officer.'
To grow the company further Wout and his team had identified the upcoming Russian Yamal LNG project as an opportunity. But this would need ice-class wide deck carriers and a lot of new investment. "You need at least four ships to be a player, but we did not even have enough money for one."
So Wout sounded out BigLift Shipping as a joint venture partner who agreed to come on board as a 50/50 partner, while some of RollDock's shareholders agreed to provide the investment capital. This was the genesis for BigRoll and it brought with it a change in boardroom dynamics. Wout's lack of a financial background was to some RollDock shareholders more important than his decades of experience.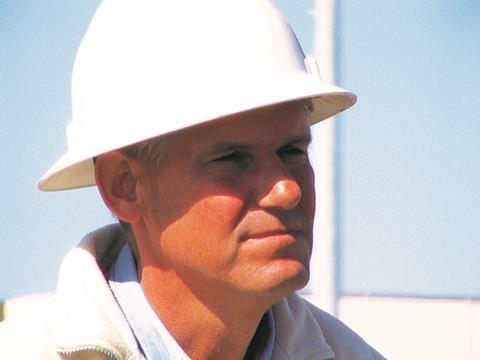 This is why he is now at BigLift and very happy, although there was a health scare in December 2020. In what was a minor heart attack he had to spend two days in hospital hooked up with electrodes and blood pressure monitors and was told he must sleep on his back.
"Well, I have never slept on my back and I cannot sleep on my back. So, I just lay there, and I started thinking about my life. And I got such a smile on my face – such a relaxed feeling. I was thinking that I had had such an exciting life."
In nearing the end of a remarkable career, how does Wout van der Zwan view the future?
"I think the heavy lift business is going to boom for the next 30 years or more and a lot of that will be about renewables. It is tremendous the plans they have to be CO2 neutral by 2050. It is beyond imagination. But I do not see wind as the future energy supplier. It is a transition energy. I think the future will be in nuclear and fusion. But until we get there, wind and oil and gas will continue to be the main cargo suppliers for heavy lift carriers in the next 30-50 years in my opinion.
I am a very privileged person. I never had to make a choice in my life. It was only ever the sea. – Captain Wout van der Zwan
Population worries
"We must also solve the problem of population growth. In my lifetime the world has grown from 4 billion to 8 billion people and between 10-15 percent of the population controls 85 percent or so of the wealth. Something has to change. I have had a life where I have only seen growth. I think our kids are going to have a much harder time. You will never hear me say it was better in the old days because we are part of the creation of the situation we have now."
As we drain the remaining wine from the bottle and prepare to leave, Wout offers me a final reflection. "I am a very privileged person," he says. "I never had to make a choice in my life. It was only ever the sea."