Cosco Shipping Specialized Carriers has been happy with the utilisation of its heavy transport fleet. Newbuild semi submersibles are scheduled for delivery over the coming quarters.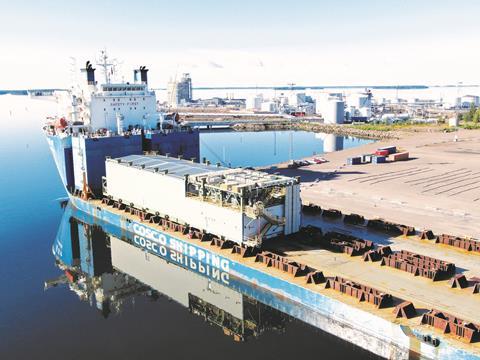 Cosco Shipping Specialized Carriers played an integral role in Tengizchevroil (TCO) future growth project (FGP) in Kazakhstan. Over the course of two years, 196 heavy items (195,000 tonnes) were moved to the site – with Cosco coordinating the movements of 17 vessels from six different owners.
According to Mikael Hansen, director – business development for Cosco Shipping Heavy Transport: "The main takeaway from TCO-FGP is that as large[1]scale onshore modularised projects continue to be developed, EPCI companies will not be able to cover their logistics requirements from a single company. Part of our success with TCO-FGP stemmed directly from our strong partnerships with the owners of the third-party vessels contracted under our leadership and responsibility."
Hansen said that modularisation is entrenched in the industry and Cosco's fleet of semi-submersible heavy transport vessels will continue to play a key role in the market. LNG projects will remain the "driving force" although another sector that will call on its specialised capabilities will be wind energy.
The nascent floating wind energy market is starting to emerge (see pp 112-114), with some floating foundations tipping the scales in the tens of thousands of tonnes bracket. "We have no doubt that the floating offshore wind sector will need to utilise vessels that have float-on/float-off capabilities; thus overall we anticipate a continued active role in this market as well," said Hansen.
Wind energy
Cosco Shipping Heavy Transport handles commercial, engineering and project management on behalf of Cosco Shipping Specialized Carriers; another buoyant market for the companies has been in support of traditional offshore wind energy installations. "In late 2018 we installed the 18,000-tonne Borwin Gamma HVDC topside, offshore Germany, via our DP2 floatover method. Later this year, we will also begin transporting equipment for two major offshore wind farms," said Hansen.
The multipurpose shipping sector is often associated with overcapacity. In the semi[1]submersible market, the gulf between supply and demand is not so stark. "We believe that the market [for semi-submersibles] is fairly well balanced at the moment; however, the spot market is still seeing very hard competition between owners," said Josh Wilson, vice president – commercial for Cosco Shipping Heavy Transport.
With that in mind, Cosco has been constructing a pair of newbuilds. "Both are purpose[1]built class DP2 vessels that can offer our clients the added safety measure of full redundancy. This is a major advantage over many of the vessels currently available in the market," Wilson explained.
Part of our success with TCO-FGP stemmed directly from our strong partnerships with the owners of the third-party vessels… – Mikael Hansen, Cosco Shipping Heavy Transport
New vessel features
The 255 m-long, 75,000 dwt Cosco 57 will feature a cargo deck spanning 211.2 m x 57 m. The allowable load on the main deck is 25-35 tons (22.7-31.8 tonnes) per sq m. Cosco 57 will have a loaded draught of 10.5 m, and its deck can submerge to 16 m below the waterline. It is scheduled for delivery in the fourth quarter of this year. Cosco should welcome Xiang an Kou to its roster during the second quarter of 2021. The 43,430 dwt semi-submersible, which measures 216.7 m long, features a 177.6 m x 43 m cargo deck also capable of supporting 25-35 tons per sq m.