Sarens SPMTs load-out the 4500-tonne LQUP jacket in Vung Tau, Vietnam.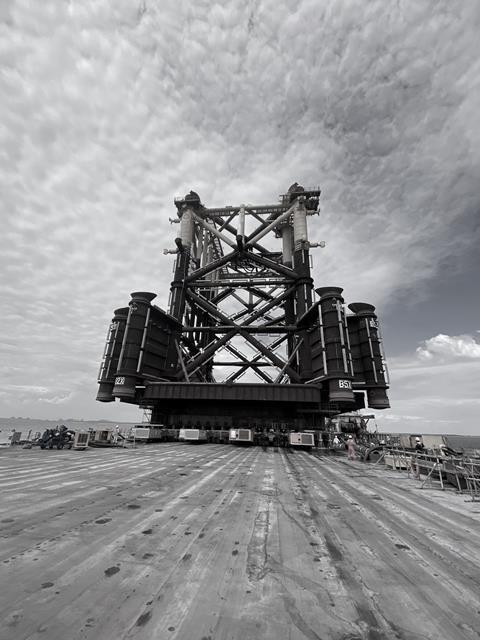 As experts in handling super over-dimensional cargo modules worldwide, Sarens has meticulously moved and loaded-out enormous modules with precision in the past. When one of the heaviest modules had to be moved in PTSC M&C fabrication yard in Vung tau, Bà ria, Vietnam, the client called Sarens to provide heavy lift and transport services.
The 4500T LQUP jacket measuring 45 m x 53 m had to be loaded-out on a barge at the PTSC M&C fabrication yard. With over six months of detailed planning and precise ballasting calculations, Sarens assessed that 168 axle-lines and 8 power packs had to be deployed to complete the job. Eight winches and 34 ballast pumps were commissioned with referenced Sarens suppliers who operated under the supervision of Sarens load-out commander.
The equipment was configured in five days and our expert SPMT team of five, along with other support staff, completed the heaviest load-out ever performed by SPMTs in Vietnam in only four hours. According to Robert Suh, Project Manager, "Our specialised crew performed outstandingly during the project and the client appreciated the planning and execution of the project."

Sarens' mission is to be the reference point in crane rental services, heavy lifting, and engineered transport. With state of the art equipment and value engineering, the company offers creative and intelligent solutions to today's heavy lifting and engineered transport challenges. With more than 100 entities in 65 countries operating without borders, Sarens handles small-scale to mega-scale projects. It currently employs 4,452 professionals. Safety and excellence are key drivers for Sarens and the company strives daily to establish a safe space for everyone and everything related to its operations. Sarens has been the market leader for over 60 years; over four Sarens family generations are intimately involved in the business. Sarens continues to build the future on the foundations of its rich past and ensures that its clients will always stay ahead of the game when it comes to heavy lifting and engineered transport innovation.